Atlas of Rare Butterflies, Skippers, Moths, Dragonflies & Damselflies of Virginia
Click image to enlarge.
Aeshna tuberculifera Walker, 1908
Black-tipped Darner
NatureServe Global Rank: G4
Virginia State Rank: S2S3
VA DGIF Tier: IV
Federal Legal Status: None
Virginia Legal Status: None

Description: The Black-tipped Darner is a "mosaic" darner with a complex pattern of blue markings on a dark abdomen. The thorax has two straight and narrow vertical stripes on the side that are blue above becoming greenish below. The common name refers to the last segment of the abdomen, which lacks the blue mosaic markings, unlike other similar darners. The size is 71-78 mm, (2.8-3.0 inches).
Similar species: In Virginia, the Shadow Darner (A. umbrosa) is far more common and widespread. It can be separated from the Black-tipped Darner by the shape of the male terminal appendages, which are sharp-tipped in Black-tipped and blunt and paddle-shaped in Shadow Darner. The Black-tipped Darner lacks blue markings on the last abdominal segment, which is distinctive from all other darners.
North American Range: The Black-tipped Darner can be found all across the northern United States and southern Canada, though often local in occurrence, with a southern extension of its range in the higher elevations of the Appalachians into North Carolina. In Virginia, it is recorded in several western counties.
VA Observations by Locality: Alleghany | Augusta | Giles | Rockingham | Russell | Tazewell | Bath | Highland | Pulaski | Scott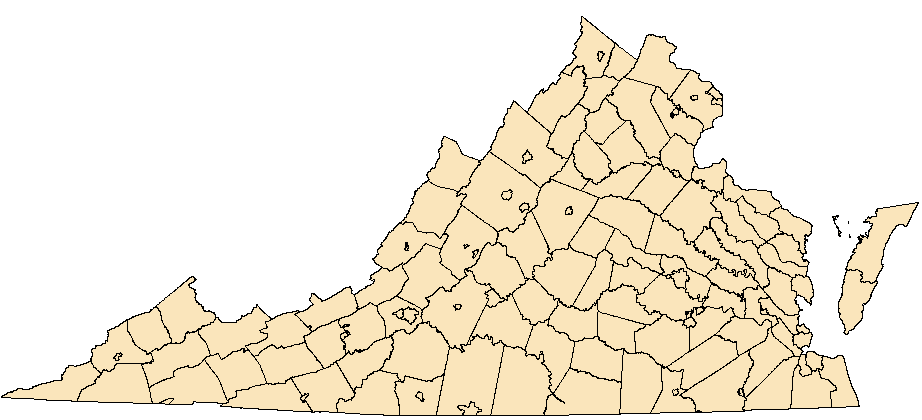 Before 1950

1950 - 1990

After 1990










Flight season and broods: The flight season in Virginia for the Black-tipped Darner ranges from 30 June - 29 October, but it is most common in the fall.
Aquatic Habitat: The Black-tipped Darner is found in boggy ponds and lakes with emergent vegetation.
Behavior and Ecology: Black-tipped Darner females oviposit into aquatic vegetation even below the water surface, and also into mud. They may be found in mixed species swarms, especially late in the day, with other species of darners and emeralds.
Population trend and potential threats: Though it has a large range, it is regarded as Imperiled to Critically Imperiled in nine states and provinces (NatureServe, 2011).
Management practices: Monitor and protect occupied habitat.
References: Carle, F.L., 1982. A contribution to the knowledge of the Odonata. Ph.D. thesis, Virginia Polytechnic Institute and State University, Blacksburg, Virginia. 1,095 pp.
NatureServe. 2011. NatureServe Explorer: An online encyclopedia of life [web application]. Version 7.1. NatureServe, Arlington, Virginia. Available http://www.natureserve.org/explorer (Accessed: March 10, 2012).
Nikula, B., J. Loose, and M. Burne. 2003. A Field Guide to the Dragonflies and Damselflies of Massachusetts. Massachusetts Division of Fisheries and Wildlife, Natural Heritage & Endangered Species Program. Westborough, Massachusetts. 197 pp.
Paulson, Dennis. 2011. Dragonflies and Damselflies of the East. Princeton University Press. Princeton and Oxford. 538 pp.
Roble, Steven M. 2011. Dragonflies of Virginia- Flight dates. Unpub.
Copyright ©2023, All Rights Reserved
Virginia Department of Conservation and Recreation, Natural Heritage Program, 600 E. Main St., 24
th
Floor, Richmond, VA 23219
This atlas was compiled by the VA Natural Heritage Program with funds provided by the VA Dept. of Game and Inland Fisheries through a state wildlife grant from U.S. Fish and Wildlife Service
Questions/Comments? Check the contacts page | Internet Privacy Policy Statement
Last Modified: Friday, 26 February 2021, 03:21:56 PM