Atlas of Rare Butterflies, Skippers, Moths, Dragonflies & Damselflies of Virginia
Click image to enlarge.
Apamea smythi Franclemont, 1952
Smyth's Apamea Moth
NatureServe Global Rank: GH
Virginia State Rank: SH
VA DGIF Tier: II
Federal Legal Status: None
Virginia Legal Status: None

Description: Smyth's Apamea Moth is a very large (50mm wing span) moth that is mostly grayish brown with a brownish reniform spot and three scalloped lines crossing the front wing. The inner two lines are edged in black while the outer-most is edged in brown. The hind wings are uniform brownish gray with a thin black line edge next to a slightly light fringe.
Similar species: Smyth's Apamea Moth has similar markings to other Apamea species but lacks the drastic color contrasts displayed in most of them. The Yellow-headed Cutworm Moth (Apamea amputatrix) is darker colored and has more poorly defined lines transecting the wings. Apamea alia is also similarly colored but lacks the defined scalloped lines.
North American Range: It is only known from Blacksburg, Virginia and Putnam, Illinois.
VA Observations by Locality: Montgomery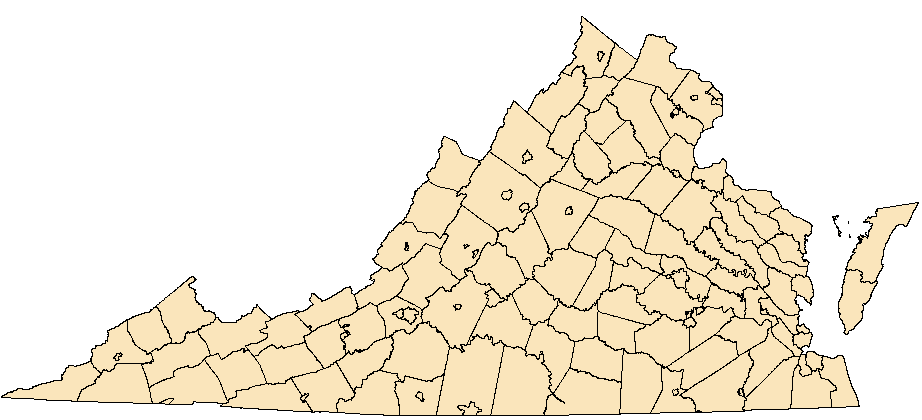 Before 1950

1950 - 1990

After 1990

Flight season and broods: The flight season and number of broods has not been documented.
Habitat and Food Plants: Habitat and food plant are not sufficiently understood, but it is assumed that mixed deciduous forests are predominant, with some bottomland forest and an abundance of large grass is likely. It is not an obligate cane feeder in contrast to most other rare southern Apameniae.
Behavior and Ecology: Due to this species' scarcity, this information is not yet clear.
Population trend and potential threats: There is nothing known regarding the population or potential threats.
Management practices: It is unknown what protection this species needs.
References: Moth Photographers Group at the Mississippi Entomological Museum at Mississippi State University. Web application at: http://mothphotographersgroup.msstate.edu/large_map.php?hodges=9350 Accessed: 10Apr2013

NatureServe. 2011. NatureServe Explorer: An online encyclopedia of life [web application]. Version 7.1. NatureServe, Arlington, Virginia. Available http://www.natureserve.org/explorer. (Accessed: 18Apr2012).

Schweitzer, D. F., M. C. Minno, and D. L. Wagner. 2011. Rare, Declining and Poorly Known Butterflies and Moths (Lepidoptera) of Forests and Woodlands in the Eastern United States. USDA Forest Service, Morgantown, WV, FHTET-2011-01. 517 pp.
Copyright ©2023, All Rights Reserved
Virginia Department of Conservation and Recreation, Natural Heritage Program, 600 E. Main St., 24
th
Floor, Richmond, VA 23219
This atlas was compiled by the VA Natural Heritage Program with funds provided by the VA Dept. of Game and Inland Fisheries through a state wildlife grant from U.S. Fish and Wildlife Service
Questions/Comments? Check the contacts page | Internet Privacy Policy Statement
Last Modified: Friday, 26 February 2021, 03:21:56 PM