Atlas of Rare Butterflies, Skippers, Moths, Dragonflies & Damselflies of Virginia
Click image to enlarge.
Aphylla williamsoni (Gloyd, 1936)
Two-striped Forceptail
NatureServe Global Rank: G5
Virginia State Rank: S2
VA DGIF Tier: IV
Federal Legal Status: None
Virginia Legal Status: None

Description: The Two-striped Forceptail is a large size and has a brown, yellow-striped thorax, with a yellowish-red end to the narrow abdomen which is unlike any other dragonfly in Virginia. The abdomen is widened near the end by a shelf-like protrusion. The size is 71-76 mm, (2.8-3.0 inches).
Similar species: The Two-striped Forceptail somewhat resembles the smaller Russet-tipped Clubtail (Stylurus plagiatus), but thoracic pattern is much different.
North American Range: The Two-striped Forceptail is found in the southeastern United States from southeast Virginia to the gulf coast as far west as Louisiana and east Texas. In Virginia, it is found only in the extreme southeastern part of the state.
VA Observations by Locality: Southampton | Chesapeake, City of | Virginia Beach, City of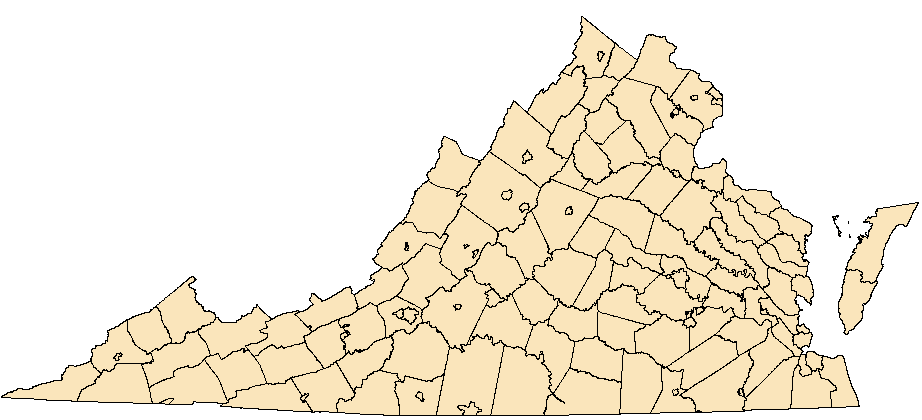 Before 1950

1950 - 1990

After 1990



Flight season and broods: The flight season in Virginia of the Two-striped Forceptail ranges from 15 July - 10 October.
Aquatic Habitat: The Two-striped Forceptail prefers muddy-bottomed lakes and slow coastal streams.
Behavior and Ecology: Thhe flight posture of the Two-striped Forceptail is unusual in that the abdomen is held in a shallow arc.
Population trend and potential threats: The Two-striped Forceptail may be expanding its range and becoming more common in southeast Virginia.
Management practices: Monitor and protect occupied habitats.
References: Carle, F.L., 1982. A contribution to the knowledge of the Odonata. Ph.D. thesis, Virginia Polytechnic Institute and State University, Blacksburg, Virginia. 1,095 pp.
Paulson, Dennis. 2011. Dragonflies and Damselflies of the East. Princeton University Press. Princeton and Oxford. 538 pp.
Roble, Steven M. 2011. Dragonflies of Virginia- Flight dates. Unpub.
Copyright ©2023, All Rights Reserved
Virginia Department of Conservation and Recreation, Natural Heritage Program, 600 E. Main St., 24
th
Floor, Richmond, VA 23219
This atlas was compiled by the VA Natural Heritage Program with funds provided by the VA Dept. of Game and Inland Fisheries through a state wildlife grant from U.S. Fish and Wildlife Service
Questions/Comments? Check the contacts page | Internet Privacy Policy Statement
Last Modified: Friday, 26 February 2021, 03:21:56 PM