Atlas of Rare Butterflies, Skippers, Moths, Dragonflies & Damselflies of Virginia
Click image to enlarge.
Arigomphus furcifer (Hagen in Selys, 1878)
Lilypad Clubtail
NatureServe Global Rank: G5
Virginia State Rank: SH
VA DGIF Tier: IV
Federal Legal Status: None
Virginia Legal Status: None

Description: The male's thorax of the Lilypad Clubtail is brown with broad pale green stripes. The abdomen has narrow spear-like stripes on top of first seven segments. Last segments are dark, but with rusty markings laterally, and with little or no expansion. A small yellow stripe exists on top of last abdominal segment. The terminal appendages are yellow. The female is similar but with yellow markings. Its size is 46-54 mm, (1.8 - 2.1 inches).
Similar species: The Lilypad Clubtail can be told from most other clubtails in Virginia by the narrow dark abdomen with almost no expansion at the end, and by the yellow appendages of the male. Also, it is one of the few clubtails to breed in still water habitats. The closely related and similar Unicorn Clubtail (A. villosipes) is common and widespread in Virginia. The Lilypad Clubtail can be distinguished from it by the last abdominal segments which are edged in a rusty color, where this is all black in the Unicorn Clubtail. The legs of the Lilypad Clubtail are entirely black, where the Uncorn Clubtail has a pale streak on the tibiae.
North American Range: The Lilypad Clubtail ranges Northeastern United States west to Wisconsin and Minnesota, south to northern Indiana, Pennsylvania, and perhaps formerly northern Virginia. There are old records for three northern Virginia counties.
VA Observations by Locality: Fauquier | Prince William | Highland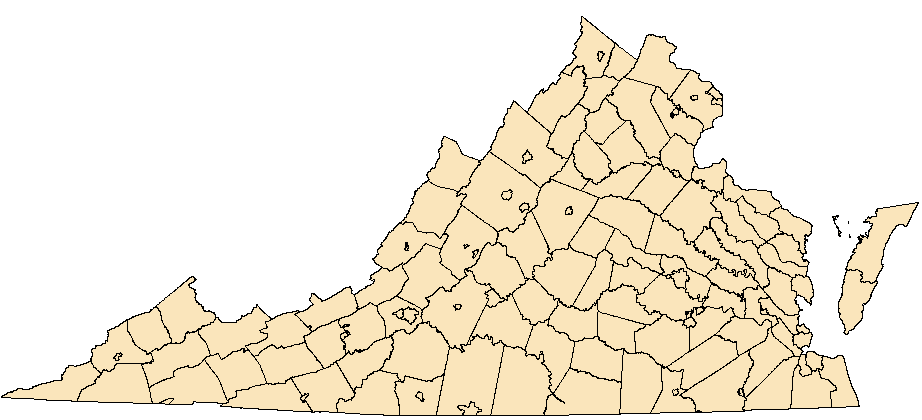 Before 1950

1950 - 1990

After 1990



Flight season and broods: The short flight season in Virginia ranges from 5 June - 5 July.
Aquatic Habitat: The Lilypad Clubtail lives at ponds or very slow streams with abundant aquatic vegetation such as lilypads.
Behavior and Ecology: The Lilypad Clubtail will perch on floating vegetation such as lilypads or duckweed.
Population trend and potential threats: The Lilpad Clubtail is uncommon to rare throughout its range. It is listed as Apparently Secure in only two states, New York and Michigan (NatureServe, 2011). No records for Virginia since 1973 (Carle, 1982).
Management practices: Monitor and protect occupied habitats.
References: Carle, F.L., 1982. A contribution to the knowledge of the Odonata. Ph.D. thesis, Virginia Polytechnic Institute and State University, Blacksburg, Virginia. 1,095 pp.

NatureServe. 2011. NatureServe Explorer: An online encyclopedia of life [web application]. Version 7.1. NatureServe, Arlington, Virginia. Available http://www.natureserve.org/explorer (Accessed: March 10, 2012).

Paulson, Dennis. 2011. Dragonflies and Damselflies of the East. Princeton University Press. Princeton and Oxford. 538 pp.

Roble, Steven M. 2011. Dragonflies of Virginia- Flight dates. Unpub.
Copyright ©2023, All Rights Reserved
Virginia Department of Conservation and Recreation, Natural Heritage Program, 600 E. Main St., 24
th
Floor, Richmond, VA 23219
This atlas was compiled by the VA Natural Heritage Program with funds provided by the VA Dept. of Game and Inland Fisheries through a state wildlife grant from U.S. Fish and Wildlife Service
Questions/Comments? Check the contacts page | Internet Privacy Policy Statement
Last Modified: Friday, 26 February 2021, 03:21:56 PM