Atlas of Rare Butterflies, Skippers, Moths, Dragonflies & Damselflies of Virginia
Click image to enlarge.
Callophrys irus (Godart, [1824])
Frosted Elfin
NatureServe Global Rank: G3
Virginia State Rank: S2?
VA DGIF Tier: IV
Federal Legal Status: None
Virginia Legal Status: None

Description: Like similar species, the Frosted elfin is gray-brown on the dorsal side which is not very helpful with identification. The ventral side is red-brown or gray-brown with a large gray patch at the outside and trailing edge of the hind wing. A black spot is usually evident in the center of this patch.
Similar species: The Frosted elfin is similar to other elfin species, especially Henry's Elfin (Callophrys henrici)and Hoary Elfin(Callophrys polios). On the ventral side, Henry's elfin is darker towards the base of the hind wing, has a smaller gray patch and lacks the black dot in the gray patch. The Hoary elfin bears a greater resemblance, although smaller in size and lacking the black dot in the gray patch.
North American Range: Found from Maine south to Florida, and west to Wisconsin and eastern Texas.
VA Observations by Locality: Arlington | Fairfax | Frederick | Madison | Montgomery | Page | Rappahannock | Roanoke | Salem, City of | Stafford | Augusta | Fairfax | Giles | Highland | Montgomery | Nelson | Prince William | Augusta | Isle of Wight | Prince William | Rockbridge | Spotsylvania | Suffolk, City of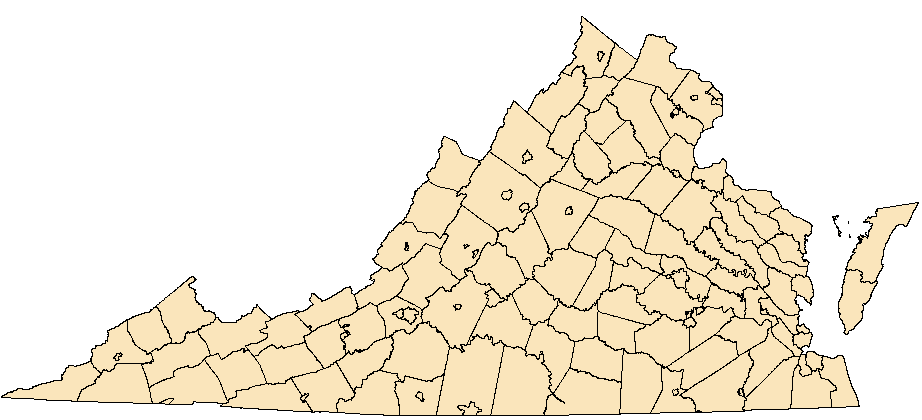 Before 1950

1950 - 1990

After 1990























Flight season and broods: One brood, usually late spring into early summer; May through June in the North, earlier in the South.
Habitat and Food Plants: Most often dry areas, especially oak woods, shale barrens, pine forests, sandhills and coastal scrub. They feed upon Wild Lupine (Lupinus perennis) and Wild Indigo (Baptisia tinctoria). Others have been cited as well, like other Lupines and Rattlebox (Crotalaria sagittalis).
Behavior and Ecology: They are low flying/perching and have been known to be ready colonizers when conditions are correct. The larvae feed on the flowers of the host and pupate in the leaf litter, also where they over-winter. They nectar on the host plants as well as some others, including Rubus species.
Population trend and potential threats: Although this species is widespread, it is found locally although it remains uncommon where found. Habitat destruction is a likely cause of the demise of this species.
Management practices: There may be different management approaches for Frosted elfin populations which feed on Lupine versus Wild Indigo. In both cases, open habitat should be preserved; however, the use of fire, herbicides, and summer mowing, might be detrimental. Winter-time mowing and deer control may be beneficial.
References: Allen, T. J. 1997. The Butterflies of West Virginia and their Caterpillars. University of Pittsburg Press. 388pp.

Cech, R. and G. Tudor. 2005. Butterflies of the East Coast. Pg. 250. Princeton University Press.

Opler, P. A. 1992. A Field Guide to Eastern Butterflies. Peterson Field Guides

Pyle, R. M. 1981. Field Guide to North American Butterflies. National Audubon Society.
Copyright ©2023, All Rights Reserved
Virginia Department of Conservation and Recreation, Natural Heritage Program, 600 E. Main St., 24
th
Floor, Richmond, VA 23219
This atlas was compiled by the VA Natural Heritage Program with funds provided by the VA Dept. of Game and Inland Fisheries through a state wildlife grant from U.S. Fish and Wildlife Service
Questions/Comments? Check the contacts page | Internet Privacy Policy Statement
Last Modified: Friday, 26 February 2021, 03:21:56 PM