Atlas of Rare Butterflies, Skippers, Moths, Dragonflies & Damselflies of Virginia
Click image to enlarge.
Calopteryx aequabilis Say, 1839
River Jewelwing
NatureServe Global Rank: G5
Virginia State Rank: SH
VA DGIF Tier: IV
Federal Legal Status: None
Virginia Legal Status: None

Description: Male River Jewelwings are a brilliant green with clear black-tipped wings. The black patch on the hindwing is more extensive than on the forewing. Females have a bronze-green body and their wings are smoke-colored, with or without black tips, but with conspicuous white stigmas. The size is 43-54 mm, (1.7-2.1 inches).
Similar species: The Sparkling Jewelwing (C. dimidiata) is much more widespread and likely in Virginia. Its wings are less extensively black-tipped, and the extent of black shading is the same on all wings. The stigmas on the females are small or even lacking.
North American Range: The River Jewelwing ranges across northern North America, with its range perhaps barely entering northwest Virginia at higher elevations. There is an unconfirmed record for Virginia from Bath County.
VA Observations by Locality: No Known Recorded Observations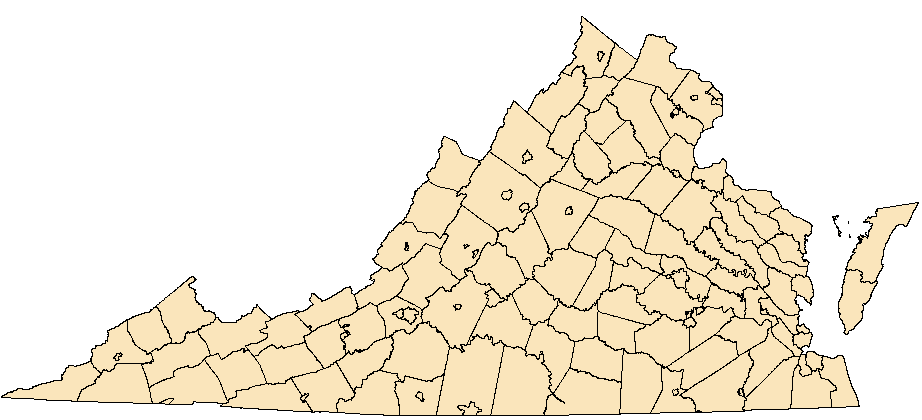 Before 1950

1950 - 1990

After 1990
Flight season and broods: Specific flight dates for the River Jewelwing in Virginia are presently unknown, but the flight season in New Jersey ranges from early June through mid-July.
Aquatic Habitat: The River Jewelwing prefers streams and small rivers with good water quality.
Behavior and Ecology: Male River Jewelwings display to females with fluttering wings.
Population trend and potential threats: Though common and secure in New England and eastern Canada, it is regarded as imperiled in many states along the southern edge of its range (NatureServe, 2011). It needs good water quality and river current characteristics.
Management practices: Monitor and protect occupied habitats.
References: Lam, Ed. 2004. Damselflies of the Northeast. Biodiversity Books. Forest Hills, New York. 96 pp.

NatureServe. 2011. NatureServe Explorer: An online encyclopedia of life [web application]. Version 7.1. NatureServe, Arlington, Virginia. Available http://www.natureserve.org/explorer (Accessed: Nov. 8, 2012).

Paulson, Dennis. 2011. Dragonflies and Damselflies of the East. Princeton University Press. Princeton and Oxford. 538 pp.

Roble, Steven M. 1994. A preliminary checklist of the Damselflies of Virginia, with Notes on Distribution and Seasonality. Banisteria 4: 3 - 23.
Copyright ©2023, All Rights Reserved
Virginia Department of Conservation and Recreation, Natural Heritage Program, 600 E. Main St., 24
th
Floor, Richmond, VA 23219
This atlas was compiled by the VA Natural Heritage Program with funds provided by the VA Dept. of Game and Inland Fisheries through a state wildlife grant from U.S. Fish and Wildlife Service
Questions/Comments? Check the contacts page | Internet Privacy Policy Statement
Last Modified: Friday, 26 February 2021, 03:21:56 PM