Atlas of Rare Butterflies, Skippers, Moths, Dragonflies & Damselflies of Virginia
Click image to enlarge.
Calopteryx angustipennis (Selys, 1853)
Appalachian Jewelwing
NatureServe Global Rank: G4
Virginia State Rank: S3
VA DGIF Tier: III
Federal Legal Status: None
Virginia Legal Status: None

Description: The Appalachian Jewelwing is a large damselfly with a brilliant, metallic-green body. The wings of both sexes are clear or faintly tinted, without any markings or stigma. Its size is 50-67 mm (2.0-2.6 inches).
Similar species: Females of other species in this genus have white stigmas, and males have some degree of dark shading in the wings.
North American Range: A regional endemic, primarily limited to the Appalachian Mountains from Pennsylvania to Virginia, Tennessee, and Kentucky into northern Alabama. In Virginia, occasionally present in the piedmont in rivers such as the James or Nottoway rivers.
VA Observations by Locality: Alleghany | Bath | Botetourt | Rockbridge | Russell | Smyth | Alleghany | Augusta | Bath | Culpeper | Greensville | Rappahannock | Richmond, City of | Rockbridge | Rockingham | Russell | Shenandoah | Sussex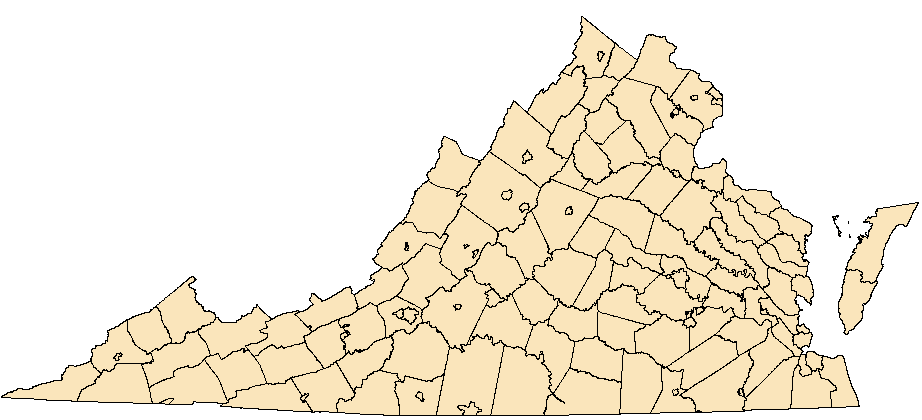 Before 1950

1950 - 1990

After 1990


















Flight season and broods: The adult Appalachian Jewelwing's flight dates in Virginia range from 26 April through 14 July.
Aquatic Habitat: The Appalachian Jewelwing primarily inhabits clean small rivers and streams, but is also sometimes present in larger rivers, e.g. along the falls of the James River in Richmond. Larvae inhabit riffle areas of rocky rivers where sand and gravel predominate.
Behavior and Ecology: The Appalachian Jewelwing perches in streamside vegetation or on riverbed rocks.
Population trend and potential threats: Has a limited range only recorded from twelve states. Of these, seven list the species as imperiled to possibly extirpated (NatureServe, 2011). It is recorded from less than ten counties in the western region of Virginia in addition to a few Piedmont sites.
Management practices: Maintenance of water quality and stream flow characteristics are likely vital.
References: Lam, Ed. 2004. Damselflies of the Northeast. Biodiversity Books. Forest Hills, New York. 96 pp.

NatureServe. 2011. NatureServe Explorer: An online encyclopedia of life [web application]. Version 7.1. NatureServe, Arlington, Virginia. Available http://www.natureserve.org/explorer (Accessed: February 20, 2012).

Paulson, Dennis. 2011. Dragonflies and Damselflies of the East. Princeton University Press. Princeton and Oxford. 538 pp.

Roble, Steven M. 1994. A preliminary checklist of the Damselflies of Virginia, with Notes on Distribution and Seasonality. Banisteria 4: 3 - 23.

Roble, Steven M. Damselflies of Virginia- Flight dates. Unpub.
Copyright ©2023, All Rights Reserved
Virginia Department of Conservation and Recreation, Natural Heritage Program, 600 E. Main St., 24
th
Floor, Richmond, VA 23219
This atlas was compiled by the VA Natural Heritage Program with funds provided by the VA Dept. of Game and Inland Fisheries through a state wildlife grant from U.S. Fish and Wildlife Service
Questions/Comments? Check the contacts page | Internet Privacy Policy Statement
Last Modified: Friday, 26 February 2021, 03:21:56 PM