Atlas of Rare Butterflies, Skippers, Moths, Dragonflies & Damselflies of Virginia
Click image to enlarge.
Catocala pretiosa pretiosa Litner, 1876
Precious Underwing
NatureServe Global Rank: G4T2
Virginia State Rank: SH
VA DGIF Tier: II
Federal Legal Status: None
Virginia Legal Status: None

Description: The wingspan of this smallish underwing is 40-50 mm. It shows considerable creamy white coloration in the median area of the forewing. The lower portion of the basal area of the forewing is also light colored. The inner black band of the hindwing forms a loop and the outer band is broken.
Similar species: May be confused with the Lincoln Underwing Moth Catocala lincolnana which is very similar except that the area at the base of the front wing out to the dark diagonal line is light gray while in the Precious Underwing this same area is darker.
North American Range: Massachusetts, Connecticut and New Jersey, west to Pennsylvania, south to Virginia and North Carolina, and west to Tennessee into Louisiana and Oklahoma.
VA Observations by Locality: Montgomery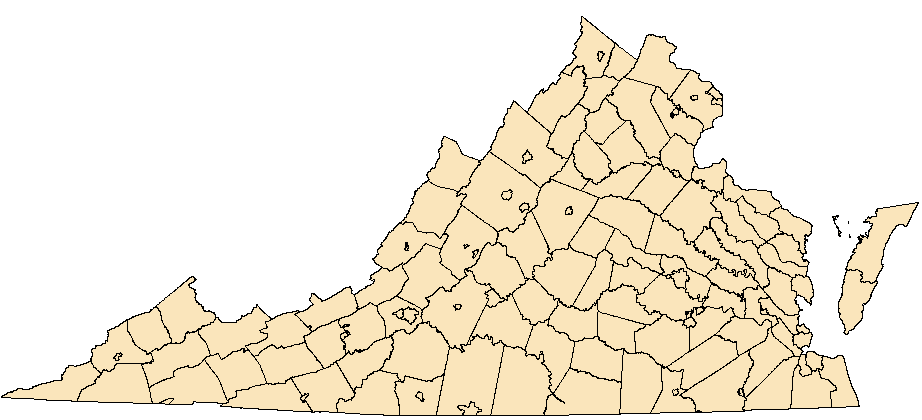 Before 1950

1950 - 1990

After 1990

Flight season and broods: Adults eclose from pupae formed under leaf litter. There is only one generation with adults flying from May into early June.
Habitat and Food Plants: The caterpillar feeds Amelanchier arborea (Serviceberry) and Malus angusticfolia (Crabapple). This species is among the more polyphagous species of underwings. Restricted to mature swamp forests, forest edges, bog edges, coastal thickets and other habitats with thickets or very large bushes of foodplant exceeding 1.5 meters in height, usually taller.
Behavior and Ecology: Adults eclose from pupae formed under leaf litter.
Population trend and potential threats: Extensive grazing on young stems and basal sprouts of ornamental crabapple by overpopulation of deer herds pose a substantial threat to the caterpillar?s food source. Roadside clearing and removal of some large Serviceberry shrubs has resulted in the conversion of excellent occupied thicket habitat to unsuitable thickets of Phragmites australis (Common Reed). Clearcutting, site preparation, excessive fires and development are threats in the southern part of its range.
Management practices: Habitat could be restored by reducing deer herds now closed to hunting. It is still unknown how sensitive this species is to BTK.
References: http://www.silkmoths.bizland.com/catpretiosa.htm
Moth Photographers Group at the Mississippi Entomological Museum at Mississippi State University. Web application at: http://mothphotographersgroup.msstate.edu/large_map.php?hodges=8858.1 Accessed: 13Apr/2013
NatureServe. 2012. NatureServe Explorer: An online encyclopedia of life [web application]. Version 7.1. NatureServe, Arlington, Virginia. Available http://www.natureserve.org/explorer. (Accessed: September 3, 2012 ).
Schweitzer, D. F., M. C. Minno, and D. L. Wagner. 2011. Rare, Declining and Poorly Known Butterflies and Moths (Lepidoptera) of Forests and Woodlands in the Eastern United States. USDA Forest Service, Morgantown, WV, FHTET-2011-01. 517 pp.
Copyright ©2023, All Rights Reserved
Virginia Department of Conservation and Recreation, Natural Heritage Program, 600 E. Main St., 24
th
Floor, Richmond, VA 23219
This atlas was compiled by the VA Natural Heritage Program with funds provided by the VA Dept. of Game and Inland Fisheries through a state wildlife grant from U.S. Fish and Wildlife Service
Questions/Comments? Check the contacts page | Internet Privacy Policy Statement
Last Modified: Friday, 26 February 2021, 03:21:56 PM