Atlas of Rare Butterflies, Skippers, Moths, Dragonflies & Damselflies of Virginia
Click image to enlarge.
Celithemis martha Williamson, 1922
Martha's Pennant
NatureServe Global Rank: G4
Virginia State Rank: S2
VA DGIF Tier: IV
Federal Legal Status: None
Virginia Legal Status: None

Description: Martha's Pennant is a rather small dragonfly at 25-33mm (1.0 - 1.3 inches). Mature males have a blackish thorax and clear wings, except for a black spot at the base of the hind wing. The female has a dark thorax marked with bright yellow spots, and the hind wing basal spots are amber crossed with black lines.
Similar species: The Faded Pennant (C. ornata) is similar to Martha's Pennant, but male Faded Pennants have reddish spots on the abdomen and red veins in the hind wing spots. Their ranges probably do not overlap in Virginia. The Black Saddlebags (Tramea lacerata) is somewhat similar but much larger, and with a more extensive black spot on the hind wings.
North American Range: Martha's Pennant is a species of the northeastern coastal plain from Maine and Nova Scotia south to northern Virginia. There are only three known sites in Virginia (Roble and Hobson, 1996).
VA Observations by Locality: Fairfax | Caroline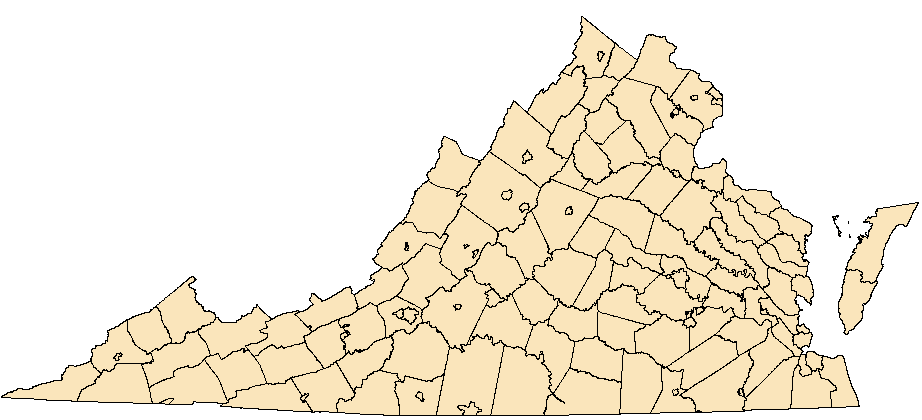 Before 1950

1950 - 1990

After 1990


Flight season and broods: The flight season in Virginia ranges from 30 May through 27 September.
Aquatic Habitat: Martha's Pennant uses sand-bottomed ponds with emergent vegetation and abundant shoreline vegetation.
Behavior and Ecology: Like other pennants, Martha's Pennants perch on tips of vegetation in adjoining fields, but will also perch on the ground.
Population trend and potential threats: Martha's Pennants have a limited range. Martha's Pennants are recorded in only ten states, and are regarded as imperiled or vulnerable in most where found(NatureServe, 2011).
Management practices: Martha's Pennants relies on sand-bottomed ponds with unmowed shoreline vegetation and emergent aquatic vegetation.
References: Beaton, Giff. 2007. Dragonflies and Damselflies of Georgia and the Southeast. University of Georgia Press, Athens. 355 pp.
Carle, F.L., 1982. A contribution to the knowledge of the Odonata. Ph.D. thesis, Virginia Polytechnic Institute and State University, Blacksburg, Virginia. 1,095 pp.
NatureServe. 2011. NatureServe Explorer: An online encyclopedia of life [web application]. Version 7.1. NatureServe, Arlington, Virginia. Available http://www.natureserve.org/explorer Accessed: March 10, 2012).
Paulson, Dennis. 2011. Dragonflies and Damselflies of the East. Princeton University Press. Princeton and Oxford. 538 pp.
Roble, Steven M. 2011. Dragonflies of Virginia- Flight dates. Unpub.
Roble, Steven M. and C.S. Hobson. 1996. The Odonata of Fort A. P. Hill and Vicinity, Caroline County, Virginia. Banisteria 7: 11-40.
Copyright ©2023, All Rights Reserved
Virginia Department of Conservation and Recreation, Natural Heritage Program, 600 E. Main St., 24
th
Floor, Richmond, VA 23219
This atlas was compiled by the VA Natural Heritage Program with funds provided by the VA Dept. of Game and Inland Fisheries through a state wildlife grant from U.S. Fish and Wildlife Service
Questions/Comments? Check the contacts page | Internet Privacy Policy Statement
Last Modified: Friday, 26 February 2021, 03:21:56 PM