Atlas of Rare Butterflies, Skippers, Moths, Dragonflies & Damselflies of Virginia
Coptotriche perplexa Braun, 1972
Chestnut Leaf-miner
NatureServe Global Rank: GHQ
Virginia State Rank: SH
VA DGIF Tier: III
Federal Legal Status: None
Virginia Legal Status: None

Description: The Chestnut Leaf-miner is a very small species at 7-8mm. The forewings are pale ocherous colored with indistinct orange-tinged longitudinal stripes that unite at the apical third of the forewing. The apex is brownish orange. The hind wing is whitish, narrower in the male than the female.
Similar species: Tischeria castaneaeella is similar but has more uniform coloration and lacks the indistinct streaking found in T. perplexa.
North American Range: Reported only from Falls Church, Virginia.
VA Observations by Locality: Falls Church, City of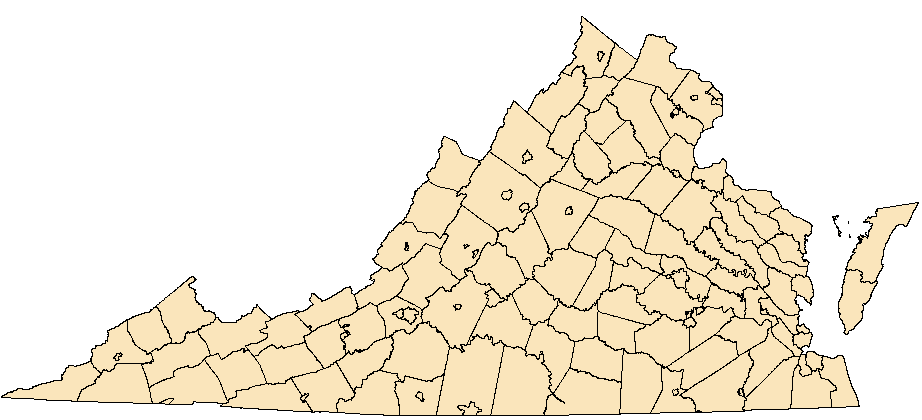 Before 1950

1950 - 1990

After 1990

Flight season and broods: Reported from late June to early August.
Habitat and Food Plants: Possibly an American Chestnut specialist.
Behavior and Ecology: Presently unknown
Population trend and potential threats: Since American Chestnut is now greatly reduced it is assumed any surviving occurrences of these moths are very localized on a few plants. Where Chestnut sprouts occur over large areas so might these moths but for now it should not be assumed that populations occupy all "suitable" habitat, especially given the periodic die back of Chestnut sprouts and the small size of these moths. Usually habitat will be small and apparent based on larval signs or simply because there are only a few Chestnuts available at the collection site. Consider the entire area containing Chestnut to be occupied up to about 400 hectares.
Management practices: None yet.
References: Braun, A. F. 1972. Tischeriidae of America north of Mexico. Memoirs of the American Entomological Society Number 28: 39-40, 120-121, 138-139.

NatureServe. 2012. NatureServe Explorer: An online encyclopedia of life [web application]. Version 7.1. NatureServe, Arlington, Virginia. Available http://www.natureserve.org/explorer. (Accessed: November 2, 2012 ).
Copyright ©2023, All Rights Reserved
Virginia Department of Conservation and Recreation, Natural Heritage Program, 600 E. Main St., 24
th
Floor, Richmond, VA 23219
This atlas was compiled by the VA Natural Heritage Program with funds provided by the VA Dept. of Game and Inland Fisheries through a state wildlife grant from U.S. Fish and Wildlife Service
Questions/Comments? Check the contacts page | Internet Privacy Policy Statement
Last Modified: Friday, 26 February 2021, 03:21:56 PM