Atlas of Rare Butterflies, Skippers, Moths, Dragonflies & Damselflies of Virginia
Click image to enlarge.
Enallagma dubium Root, 1924
Burgundy Bluet
NatureServe Global Rank: G5
Virginia State Rank: S3
VA DGIF Tier: IV
Federal Legal Status: None
Virginia Legal Status: None

Description: The Burgundy Bluet male's thorax has unique burgundy-colored stripes. The abdomen is dark without a colored ring at the tip. The female of the species has a similar pattern, but the color is a pale yellow. They are small in size, 25-30mm (1-1.2 inches).
Similar species: None in Virginia.
North American Range: The Burgundy Bluet is found in the southeastern United States only. Mostly in the coastal plain from Delaware to east Texas.
VA Observations by Locality: Caroline | Greensville | Isle of Wight | Prince George | Stafford | Sussex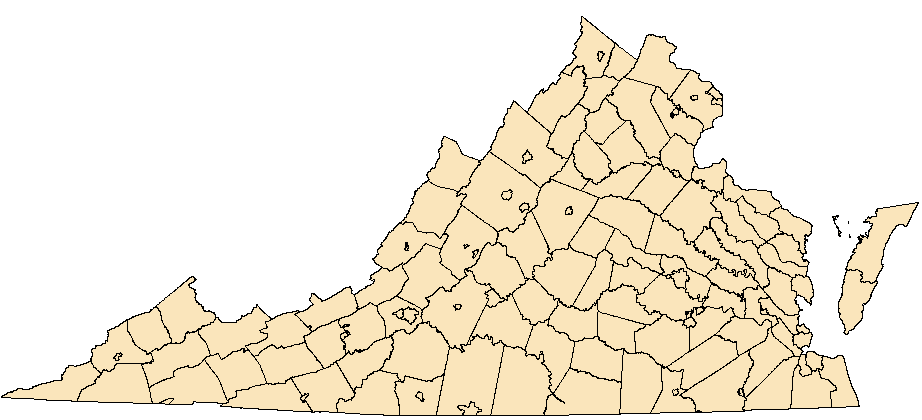 Before 1950

1950 - 1990

After 1990






Flight season and broods: In Virginia, the Burgundy Bluet records extend from 10 May through 27 September.
Aquatic Habitat: The Burgundy Bluet prefers sandy ponds or cypress swamps with aquatic vegetation and lily pads, but are also found in acidic beaver ponds.
Behavior and Ecology: The Burgundy Bluet like to perch on floating vegetation such as water lilies.
Population trend and potential threats: It appears to be uncommon and local in its limited range. It is recorded in twelve states, and is regarded as critically imperiled in Delaware and Maryland (NatureServe, 2011).
Management practices: Monitor and protect occupied habitats.
References: Lam, Ed. 2004. Damselflies of the Northeast. Biodiversity Books. Forest Hills, New York. 96 pp.

NatureServe. 2011. NatureServe Explorer: An online encyclopedia of life [web application]. Version 7.1. NatureServe, Arlington, Virginia. Available http://www.natureserve.org/explorer (Accessed: February 20, 2012).

Paulson, Dennis. 2011. Dragonflies and Damselflies of the East. Princeton University Press. Princeton and Oxford. 538 pp.

Roble, Steven M. 1994. A preliminary checklist of the Damselflies of Virginia, with Notes on Distribution and Seasonality. Banisteria 4: 3 - 23.

Roble, Steven M. 2011. Damselflies of Virginia- Flight dates. Unpub.
Copyright ©2023, All Rights Reserved
Virginia Department of Conservation and Recreation, Natural Heritage Program, 600 E. Main St., 24
th
Floor, Richmond, VA 23219
This atlas was compiled by the VA Natural Heritage Program with funds provided by the VA Dept. of Game and Inland Fisheries through a state wildlife grant from U.S. Fish and Wildlife Service
Questions/Comments? Check the contacts page | Internet Privacy Policy Statement
Last Modified: Friday, 26 February 2021, 03:21:56 PM