Atlas of Rare Butterflies, Skippers, Moths, Dragonflies & Damselflies of Virginia
Click image to enlarge.
Erynnis persius persius (Scudder, 1863)
Persius Duskywing
NatureServe Global Rank: G5T1T3
Virginia State Rank: S1
VA DGIF Tier: II
Federal Legal Status: None
Virginia Legal Status: None

Description: The Persius Duskywing is mainly darker brown with some mottling of gray and lighter brown markings. It is relatively small for a Duskywing species. The wrist band of white markings are more in line and run more perpendicular to the leading edge of the front wing.
Similar species: Extremely similar in appearance to the Columbine Duskywing (Erynnis lucilius) and the Wild Indigo Duskywing (E. baptisae). The angle of the wrist band and alignment of wrist band spots can be indicative, but are probably not 100% accurate. As with the other two, they can all be separated from other Duskywing species by the smaller sizes and difference in color distribution and shade, especially on the front wing. As with the Columbine Duskywing (E. lucilius), it may prove that the only reliable technique for species differentiation may be through genitalia differences.
North American Range: It exists in small populations throughout the Northeast, New York, Maryland, Virginia, and parts of Canada, but is most likely extirpated from much of the Northeast. It has also been found west of the Great Lakes into Wisconsin, where it tends to be more common.
VA Observations by Locality: Bedford | Fairfax | Highland | Roanoke | Tazewell | Bath | Giles | Highland | Montgomery | Rockingham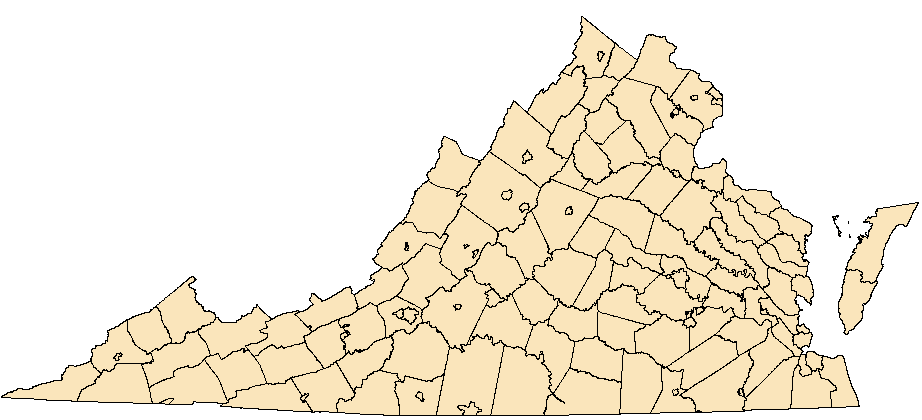 Before 1950

1950 - 1990

After 1990










Flight season and broods: The Persius Duskywing has one brood that occurs between April and June each year.
Habitat and Food Plants: The Persius Duskywing is found in the Eastern region of the United States in dry pine/oak forests with the presence of the host plant. Caterpillars feed on Wild Lupines (Lupinus perennis) and Wild Indigo (Baptisia tinctoria). Adults are nectar feeders.
Behavior and Ecology: Behavior is erratic and species are hard to track. Males are usually on the move and have erratic flight patterns but often patrol around host plants. When they are disturbed they often seek shelter in forests, dissimilar to other Duskywing species. Males also perch on or near to the ground. Females are generally found at the host plant or visiting nectar sources.
Population trend and potential threats: Their specific habitat needs may limit their population growth.
Management practices: Currently, pine barrens are monitored for Persius Duskywing populations. Regulated burning assists in growth of lupine species which would be a way to increase usable habitat for this species.
References: Allen, T. J. 1997. The Butterflies of West Virginia and their Caterpillars. University of Pittsburg Press. 388pp.
Cech, R. and G. Tudor. 2005. Butterflies of the East Coast. Pg. 259. Princeton University Press.
Opler, P. A. and V. Malikul. Eastern Butterflies. 1992. Pg. 260. Houghton Mifflin Company.
Pyle, R. M. 1981. Field Guide to North American Butterflies. National Audubon Society.
Copyright ©2023, All Rights Reserved
Virginia Department of Conservation and Recreation, Natural Heritage Program, 600 E. Main St., 24
th
Floor, Richmond, VA 23219
This atlas was compiled by the VA Natural Heritage Program with funds provided by the VA Dept. of Game and Inland Fisheries through a state wildlife grant from U.S. Fish and Wildlife Service
Questions/Comments? Check the contacts page | Internet Privacy Policy Statement
Last Modified: Friday, 26 February 2021, 03:21:56 PM