Atlas of Rare Butterflies, Skippers, Moths, Dragonflies & Damselflies of Virginia
Click image to enlarge.
Euphyes pilatka (Edwards, 1867)
Palatka Skipper (= Sawgrass Skipper)
NatureServe Global Rank: G3G4
Virginia State Rank: S1
VA DGIF Tier: III
Federal Legal Status: None
Virginia Legal Status: None

Description: The Palatka Skipper is the largest of the Euphyes genus, and is considered a large skipper in general. There is sexual dimorphism on the dorsal surface which is similar to the other Euphyes species. The males have a large and bright orange patch beginning near the base of the front wing that is partially bisected by a black stigma. The female is quite variable but usually displays a higher degree of yellow-orange coloration than most Euphyes species. There is a line of markings that begin at the wrist band spots and bisect the wing, but these markings are often expanded to fill in the majority of the front wing with the yellow-orange color. Both sexes have brown outer-edges of the front wings and have similar dorsal hind wings with slightly expanded yellow-orange coloration surrounded by brown. The ventral hind wings is dull tan-brown, the females occasionally have some poorly defined spots about 2/3 the length from the base of the wings.
Similar species: The Palatka Skipper is easy to separate from other skipper species based on its large size alone. The poorly marked hind wings separate it from others of its genus. It may possibly be confused with the similarly sized Rare Skipper (Problema bulenta which can be found in the exact same locations. Rare Skippers also have poorly marked hind wings but are an obvious orange coloration while those on Palatka Skippers are tan-brown. The dorsal sides of both species can be surprisingly similar in females, but the ventral hind wings are diagnostic. The ventral surface of the hind wing is also similar to the Tawny-Edged Skipper (Polites themistocles), but its much smaller size alone can separate the two.
North American Range: The Palatka Skipper is found along the coast from Southeastern Virginia to the Florida Keys. Occasionally, occurrences have been noted along the Gulf Coast.
VA Observations by Locality: Virginia Beach, City of | Virginia Beach, City of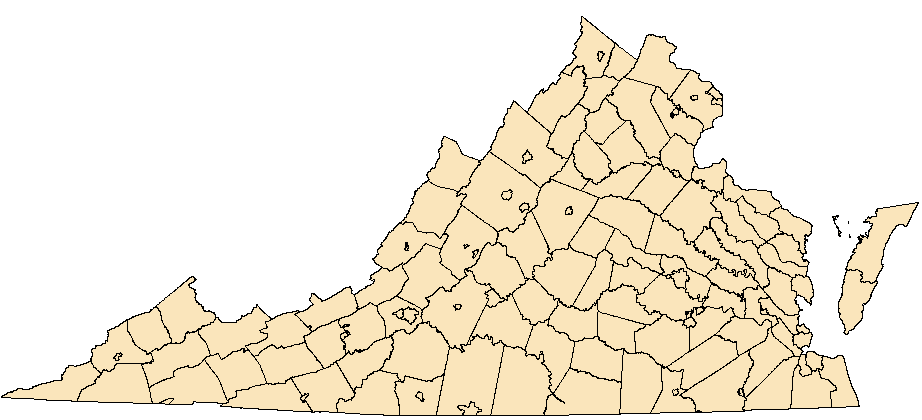 Before 1950

1950 - 1990

After 1990


Flight season and broods: Generally, there are 2 broods produced by this species that occur between January and November. There have been reports of three broods in the Southern region. Further North it is likely there will be two with the first occurring between May to July and the second between August and October.
Habitat and Food Plants: This skipper favors coastal regions and tends to stay in marshes where their host plant is present. The sedge Sawgrass (Cladium jamaicensis) is the only host plant of the Palatka Skipper. It mainly occurs in expansive wetlands in estuaries but also at peripheral wetlands and some inland wetlands (in Florida).
Behavior and Ecology: The caterpillars live in the host plant leaves and pupate on the plant as well. The Palatka Skipper is strongly linked to the host plant species but is not always found where the host plant occurs. This is one of the few skipper species that may be found perching and patrolling host plant stands as taking nectar from available inflorescences. Males perch in openings in host plant stand or other vantage points, but usually on the host. When other males are encountered, aerial dogfights ensue that are incredibly fast and can go high enough into the sky that the individuals involved can be lost to the observer. They often return to the same perch or same group of perches. Females fly lower usually under the cover of the Sawgrass. Palatka Skippers will travel to marsh edges to take nectar from available flowers.
Population trend and potential threats: This species is highly local but usually common where found. Preservation of expansive coastal wetlands and host plant viability should rule out any threat to this species.
Management practices: There are no current management practices being performed with this species other than biodiversity monitoring.
References: Cech, R. and G. Tudor. 2005. Butterflies of the East Coast. Pg. 299. Princeton University Press.
Opler, P. A. and V. Malikul. 1992. Eastern Butterflies. Pg.298. Houghton Mifflin Company.
Pyle, R. M. 1981. Field Guide to North American Butterflies. National Audubon Society.
Smith, T. P. 2011. Predictive capabilities of GIS for the distribution of specialist wetland Skippers (Lepidoptera: Hesperiidae) in South Carolina. MES thesis at College of Charleston, SC. ProQuest LLC publishing company.
Copyright ©2023, All Rights Reserved
Virginia Department of Conservation and Recreation, Natural Heritage Program, 600 E. Main St., 24
th
Floor, Richmond, VA 23219
This atlas was compiled by the VA Natural Heritage Program with funds provided by the VA Dept. of Game and Inland Fisheries through a state wildlife grant from U.S. Fish and Wildlife Service
Questions/Comments? Check the contacts page | Internet Privacy Policy Statement
Last Modified: Friday, 26 February 2021, 03:21:56 PM