Atlas of Rare Butterflies, Skippers, Moths, Dragonflies & Damselflies of Virginia
Click image to enlarge.
Franclemontia interrogans (Walker, 1856)
A cane moth
NatureServe Global Rank: G3G4
Virginia State Rank: S1S3
VA DGIF Tier: IV
Federal Legal Status: None
Virginia Legal Status: None

Description: Franclemontia interrogans is a medium (36mm) species that is a combination of tan and brown. The front wings are colored light tan towards the basal half of the leading edge as well as the trailing half. A non-distinct black line orginates at the base of the wing and runs toward the outside edge, bissecting the wing. The anterior side of this line has light brown shading, especially toward the outside of the wing. There is a white stigma-shaped mark in the black/light brown area. The hind wing is either uniformly gray with light veins or tan with brownish shading on the outside half.
Similar species: Other Noctuids that have a similar overall coloration do not have the white stigma-like marking, and those that have a similar white marking do not have the same arrangement of coloration as Franclemontia interrogans.
North American Range: This species ranges on the outer coastal plain of Virginia, North Carolina, South Carolina, Florida panhandle and Alabama. In Virginia it has been documented in Virginia Beach City.
VA Observations by Locality: Virginia Beach, City of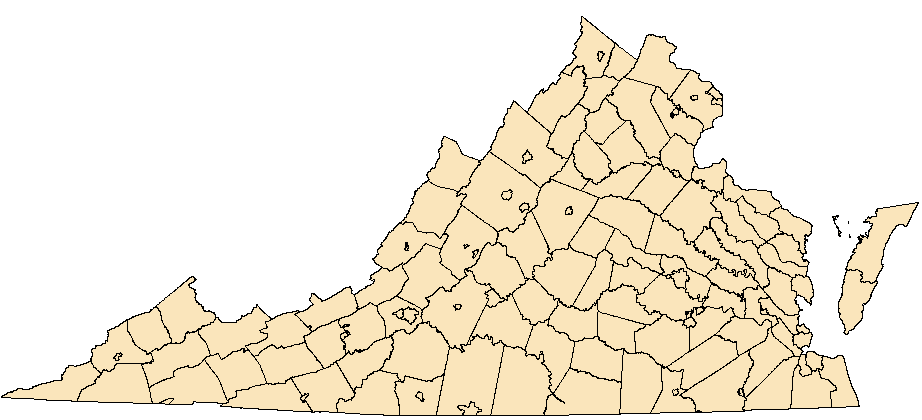 Before 1950

1950 - 1990

After 1990

Flight season and broods: Adults fly in April. This is a single brooded species.
Habitat and Food Plants: The habitat is not well known, but a good stand of cane is essential. The larvae food plant is cane.
Behavior and Ecology: Larvae are present most of the year, but it is uncertain whether larvae or pupae overwinter.
Population trend and potential threats: Population trends are unknown. A major threat to this species is conversion of habitats to pine plantations and developments. Fire at inappropriate seasons could also threaten this species.
Management practices: In managed areas using fire, adequate refugia must be present and excessively frequent burning should be avoided. Since little is known about this moth, management practice recommendations for Papaipema should be followed.
References: Moth Photographers Group at the Mississippi Entomological Museum at Mississippi State University. Web application at: http://mothphotographersgroup.msstate.edu/large_map.php?hodges=9444 Accessed: 14Apr2013
NatureServe. 2011. NatureServe Explorer: An online encyclopedia of life [web application]. Version 7.1. NatureServe, Arlington, Virginia. Available http://www.natureserve.org/explorer. (Accessed: May 4, 2012).
Schweitzer, D. F., M. C. Minno, and D. L. Wagner. 2011. Rare, Declining and Poorly Known Butterflies and Moths (Lepidoptera) of Forests and Woodlands in the Eastern United States. USDA Forest Service, Morgantown, WV, FHTET-2011-01. 517 pp.
Copyright ©2023, All Rights Reserved
Virginia Department of Conservation and Recreation, Natural Heritage Program, 600 E. Main St., 24
th
Floor, Richmond, VA 23219
This atlas was compiled by the VA Natural Heritage Program with funds provided by the VA Dept. of Game and Inland Fisheries through a state wildlife grant from U.S. Fish and Wildlife Service
Questions/Comments? Check the contacts page | Internet Privacy Policy Statement
Last Modified: Friday, 26 February 2021, 03:21:56 PM