Atlas of Rare Butterflies, Skippers, Moths, Dragonflies & Damselflies of Virginia
Gomphus abbreviatus Hagen in Selys, 1878
Spine-crowned Clubtail
NatureServe Global Rank: G3G4
Virginia State Rank: S3
VA DGIF Tier: III
Federal Legal Status: None
Virginia Legal Status: None

Description: The Spine-crowned Clubtail is a small yellow and black species with a prominent widening of the abdominal tip (club). There are small yellow triangles on top of most abdominal segments except for the last few, where there are large yellow spots on the sides. The face entirely yellow. Tiny spines on the females head give it its common name, but these spines are also present in other species such as the Green-faced Clubtail. It ranges in size from 34-35 mm (1.4 inches).
Similar species: Many clubtails are very similar and need to be examined in hand and identified using a combination of characters. The Spine-crowned Clubtail is in a group of similar clubtails that are small, but with prominent clubs. This group includes the Mustached (G. adelphus), Banner (G. apomyius), Piedmont (G. parvidens), and Green-faced (G. viridifrons) Clubtails. The Green-faced and Mustached Clubtails have dark stripes on the face. The Spine-crowned needs to be distinguished from the Piedmont Clubtail in hand. See discussions and illustrations in Paulson (2011) or Nikula et al. (2003).
North American Range: The Spine-crowned Clubtail is found in eastern North America from New Brunswick and Maine south to North Carolina. In Virginia, it can be found on rivers such as the Dan, Jackson, James, Nottoway, and Potomac. Most records are from the Piedmont or western coastal plain, with one outlying record from Alleghany County.
VA Observations by Locality: Botetourt | Alleghany | Halifax | Lunenburg | Nottoway | Prince George | Sussex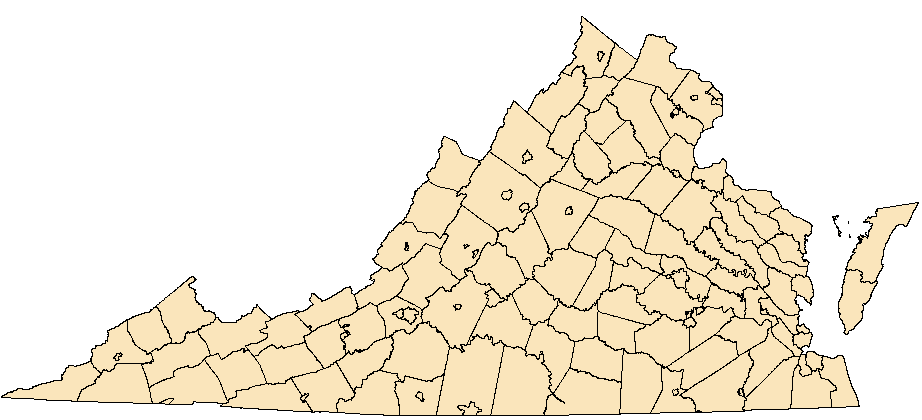 Before 1950

1950 - 1990

After 1990







Flight season and broods: The are records for the Spine-crowned Clubtail from 28 March through 6 June in Virginia.
Aquatic Habitat: The Spine-crowned Clubtail can be found at large rivers with moderate current, rocky riffles, and areas of muddy substrate.
Behavior and Ecology: Very early flight season. Adults perch on streamside vegetation or rocks in the streambed.
Population trend and potential threats: The Spine-crowned Clubtail is regarded as critically imperiled to vulnerable throughout its range, Possibly extirpated in two states, and considered secure only in New Brunswick (NatureServe, 2011).
Management practices: Monitor and protect occupied habitats.
References: Carle, F.L., 1982. A contribution to the knowledge of the Odonata. Ph.D. thesis, Virginia Polytechnic Institute and State University, Blacksburg, Virginia. 1,095 pp.
NatureServe. 2011. NatureServe Explorer: An online encyclopedia of life [web application]. Version 7.1. NatureServe, Arlington, Virginia. Available http://www.natureserve.org/explorer (Accessed: March 26, 2012).
Nikula, B., J. Loose, and M. Burne. 2003. A Field Guide to the Dragonflies and Damselflies of Massachusetts. Massachusetts Division of Fisheries and Wildlife, Natural Heritage & Endangered Species Program. Westborough, Massachusetts. 197 pp.
Paulson, Dennis. 2011. Dragonflies and Damselflies of the East. Princeton University Press. Princeton and Oxford. 538 pp.
Roble, Steven M. 2011. Dragonflies of Virginia- Flight dates. Unpub.
Copyright ©2023, All Rights Reserved
Virginia Department of Conservation and Recreation, Natural Heritage Program, 600 E. Main St., 24
th
Floor, Richmond, VA 23219
This atlas was compiled by the VA Natural Heritage Program with funds provided by the VA Dept. of Game and Inland Fisheries through a state wildlife grant from U.S. Fish and Wildlife Service
Questions/Comments? Check the contacts page | Internet Privacy Policy Statement
Last Modified: Friday, 26 February 2021, 03:21:56 PM