Atlas of Rare Butterflies, Skippers, Moths, Dragonflies & Damselflies of Virginia
Click image to enlarge.
Gomphus descriptus Banks, 1896
Harpoon Clubtail
NatureServe Global Rank: G4
Virginia State Rank: S1
VA DGIF Tier: IV
Federal Legal Status: None
Virginia Legal Status: None

Description: The Harpoon Clubtail is one of the clubtails with very little expansion of the abdomen. The stripes on top of the thorax are very wide. There are no facial stripes. The last segments of the abdomen are dark above, and are narrowly yellow on the sides. Size; 48-52 mm., 2.0 inches.
Similar species: The Harpoon Clubtail is very similar in appearance to the Beaverpond Clubtail (G. borealis). Habitat choice is a good separation, as the Harpoon Clubtail is found in rocky streams and rivers, whereas the Beaverpond Clubtail is a species of ponds and bogs.
North American Range: The Harpoon Clubtail ranges from eastern Canada and the northeastern United States, south in higher elevations to North Carolina (where there are no recent records). In Virginia it is known only from Highland County.
VA Observations by Locality: Highland | Highland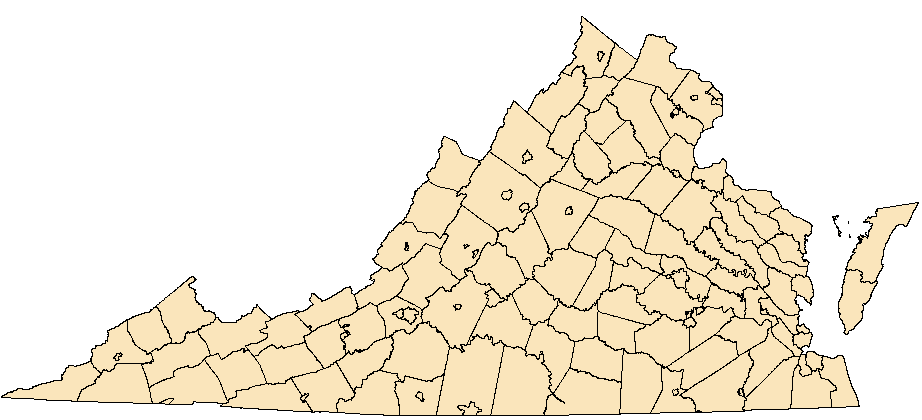 Before 1950

1950 - 1990

After 1990


Flight season and broods: The Harpoon Clubtail has records from 30 May to 27 June in Virginia.
Aquatic Habitat: The prefered habitat is clean, sandy and rocky rivers with strong current.
Behavior and Ecology: Like many Clubtails, the Harpoon Clubtail will forage in fields and along forest edges. Males patrol low over the water and perch on rocks and occasionally overhanging vegetation. Females may perch with an upturned abdomen.
Population trend and potential threats: It is regarded as Secure only in the Canadian provinces of Quebec and New Brunswick. In its United States range, it is listed as vulnerable to critically imperiled throughout, and possibly extirpated in Kentucky (NatureServe 2011).
Management practices: Monitor and protect occupied habitats.
References: NatureServe. 2011. NatureServe Explorer: An online encyclopedia of life [web application]. Version 7.1. NatureServe, Arlington, Virginia. Available http://www.natureserve.org/explorer (Accessed: May 14, 2012).
Nikula, B., J. Loose, and M. Burne. 2003. A Field Guide to the Dragonflies and Damselflies of Massachusetts. Massachusetts Division of Fisheries and Wildlife, Natural Heritage & Endangered Species Program. Westborough, Massachusetts. 197 pp.
Paulson, Dennis. 2011. Dragonflies and Damselflies of the East. Princeton University Press. Princeton and Oxford. 538 pp.
Roble, Steven M. 2011. Dragonflies of Virginia- Flight dates. Unpub.
Copyright ©2021, All Rights Reserved
Virginia Department of Conservation and Recreation, Natural Heritage Program, 600 E. Main St., 24
th
Floor, Richmond, VA 23219
This atlas was compiled by the VA Natural Heritage Program with funds provided by the VA Dept. of Game and Inland Fisheries through a state wildlife grant from U.S. Fish and Wildlife Service
Questions/Comments? Check the contacts page | Internet Privacy Policy Statement
Last Modified: Friday, 26 February 2021, 03:21:56 PM