Atlas of Rare Butterflies, Skippers, Moths, Dragonflies & Damselflies of Virginia
Click image to enlarge.
Gomphus rogersi (Gloyd, 1936)
Sable Clubtail
NatureServe Global Rank: G4
Virginia State Rank: S3
VA DGIF Tier: IV
Federal Legal Status: None
Virginia Legal Status: None

Description: The Sable Clubtail is a small dark clubtail with a narrow club and a mostly black abdomen in males. The wingtips are lightly dusky in color. The face has two black crosslines. Its size ranges from 47-50 mm (1.8 - 2.0 inches).
Similar species: The slightly dusky wingtips and narrow club should separate the Sable Clubtail from all other clubtails except for the Cherokee Clubtail (G. consanguis). The Sable Clubtail is more widespread in Virginia, occurring in western counties from north to south, where the Cherokee Clubtail is a more southern species, occurring in Virginia only in the extreme southwest portion of the state. The Cherokee Clubtail has only one dark crossline on the face.
North American Range: The Sable Clubtail is found in the eastern United States in the Appalachian Mountains from New York south to Georgia and Alabama. There are records from several counties in Virginia, mostly in the west.
VA Observations by Locality: Augusta | Fairfax | Fauquier | Floyd | Giles | Montgomery | Prince William | Tazewell | Washington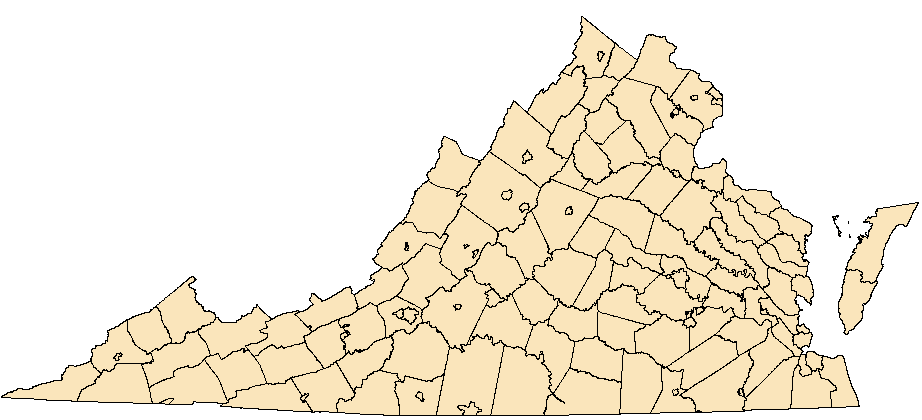 Before 1950

1950 - 1990

After 1990








Flight season and broods: The Sable Clubtail can be found from 29 May to 24 July in Virginia.
Aquatic Habitat: The Sable Clubtail prefers small sunlit streams, especially those found in meadows and other open areas.
Behavior and Ecology: The Sable Clubtail will forage along forest edges, often high above ground. Males perch on low objects in or near the water. They are most active from mid-morning to late afternoon.
Population trend and potential threats: Considered imperiled or critically imperiled over much of its range. It is secure only in Tennessee (NatureServe, 2011).
Management practices: Monitor and protect occupied habitats.
References: Carle, F.L., 1982. A contribution to the knowledge of the Odonata. Ph.D. thesis, Virginia Polytechnic Institute and State University, Blacksburg, Virginia. 1,095 pp.

NatureServe. 2011. NatureServe Explorer: An online encyclopedia of life [web application]. Version 7.1. NatureServe, Arlington, Virginia. Available http://www.natureserve.org/explorer (Accessed: Sept. 2, 2012).

Paulson, Dennis. 2011. Dragonflies and Damselflies of the East. Princeton University Press. Princeton and Oxford. 538 pp.

Roble, Steven M. 2011. Dragonflies of Virginia- Flight dates. Unpub.
Copyright ©2023, All Rights Reserved
Virginia Department of Conservation and Recreation, Natural Heritage Program, 600 E. Main St., 24
th
Floor, Richmond, VA 23219
This atlas was compiled by the VA Natural Heritage Program with funds provided by the VA Dept. of Game and Inland Fisheries through a state wildlife grant from U.S. Fish and Wildlife Service
Questions/Comments? Check the contacts page | Internet Privacy Policy Statement
Last Modified: Friday, 26 February 2021, 03:21:56 PM