Atlas of Rare Butterflies, Skippers, Moths, Dragonflies & Damselflies of Virginia
Click image to enlarge.
Helocordulia selysii (Hagen in Selys, 1878)
Selys' Sundragon
NatureServe Global Rank: G4
Virginia State Rank: S3
VA DGIF Tier: IV
Federal Legal Status: None
Virginia Legal Status: None

Description: Selys' Sundragon is a rather small springtime dragonfly with an unmarked brown thorax and black abdomen. There are small spots along the leading edge of the wings and yellow markings on the abdomen, with a yellow ring around the base of the abdomen. It size range is 38-41 mm (1.5 inches).
Similar species: Selys' Sundragon can be told from the baskettails (Epitheca species) which also fly in early Spring, by the mostly black abdomen that thickens towards the end, bluish eyes, and the small spots basally along the leading edge of the wings. It can be distinguished from its close relative Uhler's Sundragon (H. uhleri) by the lack of orange spots in the wing bases.
North American Range: Selys' Sundragon lives in the southeastern United States from southern Maryland to east Texas, mostly in the Piedmont geographical province. In Virginia, this is mostly a Piedmont species, with some records from the coastal plain. It is apparently absent from western and higher elevation counties where it is replaced by Uhler's Sundragon.
VA Observations by Locality: Fluvanna | Brunswick | Campbell | Caroline | Charlotte | Hanover | Louisa | Mecklenburg | Powhatan | Southampton | Caroline | Chesterfield | King and Queen | Lunenburg | Middlesex | Nottoway | Powhatan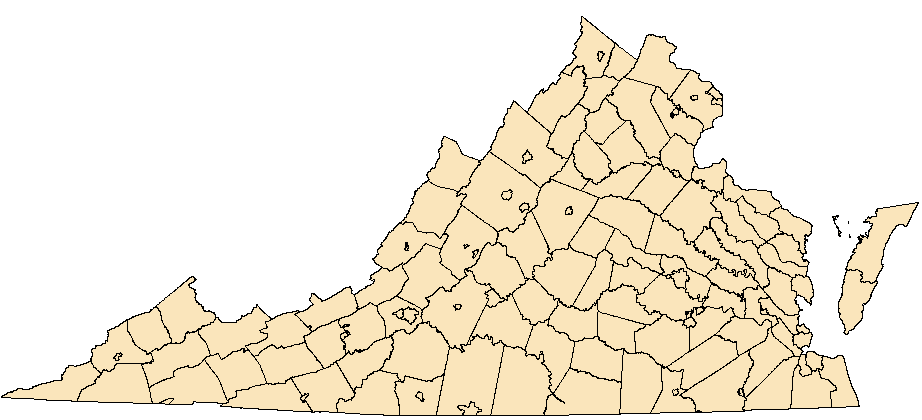 Before 1950

1950 - 1990

After 1990

















Flight season and broods: Selys' Sundragon is one of our earliest dragonflies of the Spring. 20 March to 18 May in Virginia.
Aquatic Habitat: Selys' Sundragon prefers small forest streams.
Behavior and Ecology: Selys' Sundragon perches vertically by hanging from low vegetation, often along sunny openings in the woods or along roadsides not far its from juvenile habitat, never on the ground.
Population trend and potential threats: It is regarded as imperiled in several states in the northern portion of its range (NatureServe, 2011).
Management practices: Monitor and protect occupied habitats.
References: Carle, F.L., 1982. A contribution to the knowledge of the Odonata. Ph.D. thesis, Virginia Polytechnic Institute and State University, Blacksburg, Virginia. 1,095 pp.
NatureServe. 2011. NatureServe Explorer: An online encyclopedia of life [web application]. Version 7.1. NatureServe, Arlington, Virginia. Available http://www.natureserve.org/explorer (Accessed: Oct 10, 2012).
Paulson, Dennis. 2011. Dragonflies and Damselflies of the East. Princeton University Press. Princeton and Oxford. 538 pp.
Roble, Steven M. 2011. Dragonflies of Virginia- Flight dates. Unpub.
Copyright ©2023, All Rights Reserved
Virginia Department of Conservation and Recreation, Natural Heritage Program, 600 E. Main St., 24
th
Floor, Richmond, VA 23219
This atlas was compiled by the VA Natural Heritage Program with funds provided by the VA Dept. of Game and Inland Fisheries through a state wildlife grant from U.S. Fish and Wildlife Service
Questions/Comments? Check the contacts page | Internet Privacy Policy Statement
Last Modified: Friday, 26 February 2021, 03:21:56 PM