Atlas of Rare Butterflies, Skippers, Moths, Dragonflies & Damselflies of Virginia
Click image to enlarge.
Lestes vidua Hagen, 1861
Carolina Spreadwing
NatureServe Global Rank: G5
Virginia State Rank: SNA
VA DGIF Tier: IV
Federal Legal Status: None
Virginia Legal Status: None

Description: The Carolina Spreadwing's upper thorax is dark with reddish-brown stripes and the lower thorax is light blue. The abdomen is dark with a blue-gray tip. The eyes are dark blue to violet above, bright blue below. Its size range is 38-46mm (1.5-1.8 inches).
Similar species: The Southern Spreadwing (L. australis) is much more common. Differences in terminal appendages are distinctive with a hand lens. See illustrations in Paulson (2011) or Beaton (2007).
North American Range: The Carolina Spreadwing is found in the southeastern United States only, from southeast Virginia to Florida. In Virginia, it is known only from a single old museum specimen taken in the Tidewater area.
VA Observations by Locality: Virginia Beach, City of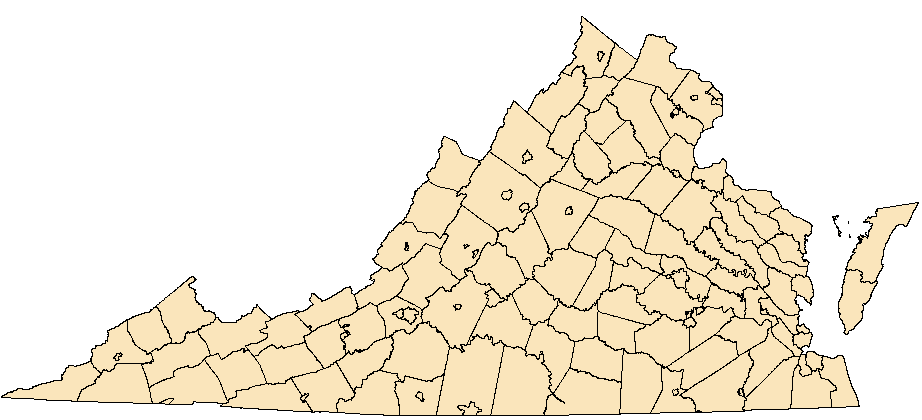 Before 1950

1950 - 1990

After 1990

Flight season and broods: Our only Virginia record for the Carolina Spreadwing is 21 September. In Georgia, it is found from April - May and again from September - October, and is largely absent during the middle of the flight season (Beaton, 2007). It is most common in the fall.
Aquatic Habitat: The Carolina Spreadwing breeds in shallow ponds with aquatic vegetation, perhaps confined to fishless ponds.
Behavior and Ecology: Carolina Spreadwing pairs oviposit while in tandem into grass stems that are just beneath the waters surface. Like other species in this genus, they perch with wings partially spread.
Population trend and potential threats: The Carolina Spreadwing has very limited range, and is not very common anywhere. Recorded from only eight southeastern states, of which both Virginia and Louisiana consider it as possibly extirpated. It is also considered as imperiled in North Carolina (NatureServe, 2011).
Management practices: Monitor and protect occupied habitats.
References: Beaton, Giff. 2007. Dragonflies and Damselflies of Georgia and the Southeast. University of Georgia Press, Athens. 355 pp.

NatureServe. 2011. NatureServe Explorer: An online encyclopedia of life [web application]. Version 7.1. NatureServe, Arlington, Virginia. Available http://www.natureserve.org/explorer (Accessed: February 20, 2012).

Paulson, Dennis. 2011. Dragonflies and Damselflies of the East. Princeton University Press. Princeton and Oxford. 538 pp.

Roble, Steven M. 1994. A preliminary checklist of the Damselflies of Virginia, with Notes on Distribution and Seasonality. Banisteria 4: 3 - 23.

Roble, Steven M. 2011. Damselflies of Virginia- Flight dates. Unpub.
Copyright ©2023, All Rights Reserved
Virginia Department of Conservation and Recreation, Natural Heritage Program, 600 E. Main St., 24
th
Floor, Richmond, VA 23219
This atlas was compiled by the VA Natural Heritage Program with funds provided by the VA Dept. of Game and Inland Fisheries through a state wildlife grant from U.S. Fish and Wildlife Service
Questions/Comments? Check the contacts page | Internet Privacy Policy Statement
Last Modified: Friday, 26 February 2021, 03:21:56 PM