Atlas of Rare Butterflies, Skippers, Moths, Dragonflies & Damselflies of Virginia
Click image to enlarge.
Nemoria tuscarora Ferguson, 1969
Tuscarora Emerald
NatureServe Global Rank: GU
Virginia State Rank: S1S3
VA DGIF Tier: IV
Federal Legal Status: None
Virginia Legal Status: None

Description: The Tuscarora Emerald is a small moth with a 24mm wing span, although this is on the larger side for an Emerald. The wings are a light green with a yellow hue, and have two white lines that run from the leading edge to the trailing edge of the forewing, and continue through the back wing. On the forewing, the outer line is straighter than the inner line which veers towards the body at the leading edge of the wing. Both lines on the hind wing follow a similar pattern to the outer edge of the hind wing, although not exactly. The wing fringes are light yellowish green.
Similar species: The Tuscarora Emerald is similar to many other Emerald species. Some of them can be ruled out based upon their wavier am and pm lines. Those with straighter lines are more difficult to differentiate, although most have some type of white and reddish markings on the abdomen or along the wing fringe, while the Tuscarora emerald does not.
North American Range: It has been found in Ohio, Kentucky, Tennessee, Indiana, Maryland, West Virginia, Pennsylvania, North Carolina and Virginia. In Virginia, it has been documented in Rockbridge County.
VA Observations by Locality: Rockbridge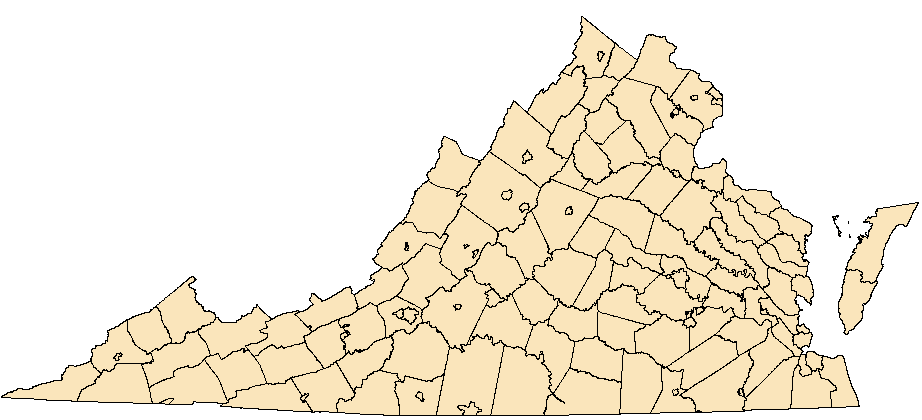 Before 1950

1950 - 1990

After 1990

Flight season and broods: In Maryland, this species has been found in June and early July.
Habitat and Food Plants: The Tuscarora Emerald hosts on species of Hypericum. It seems to prefer high elevation wetlands.
Behavior and Ecology: Presently unknown.
Population trend and potential threats: The population trend is unknown for this species. There is potential threat from resort developments and gypsy moth spraying.
Management practices: Populations should be monitored and occupied habitats protected.
References: Friends' Central School Lepidoptera Research: http://ourfcs.friendscentral.org/moths/nemoria_tuscarora.htm Accessed: 18Apr2013

Moth Photographers Group at the Mississippi Entomological Museum at Mississippi State University. Web application at: http://mothphotographersgroup.msstate.edu/large_map.php?hodges=7030 Accessed: 18Apr2013

NatureServe. 2011. NatureServe Explorer: An online encyclopedia of life [web application]. Version 7.1. NatureServe, Arlington, Virginia. Available http://www.natureserve.org/explorer. (Accessed: September 21, 2012).
Copyright ©2023, All Rights Reserved
Virginia Department of Conservation and Recreation, Natural Heritage Program, 600 E. Main St., 24
th
Floor, Richmond, VA 23219
This atlas was compiled by the VA Natural Heritage Program with funds provided by the VA Dept. of Game and Inland Fisheries through a state wildlife grant from U.S. Fish and Wildlife Service
Questions/Comments? Check the contacts page | Internet Privacy Policy Statement
Last Modified: Friday, 26 February 2021, 03:21:56 PM