Atlas of Rare Butterflies, Skippers, Moths, Dragonflies & Damselflies of Virginia
Click image to enlarge.
Neonympha helicta (Hübner, [1808])
Helicta Satyr
NatureServe Global Rank: G3G4
Virginia State Rank: S2
VA DGIF Tier: IV
Federal Legal Status: None
Virginia Legal Status: None

Description: The Helicta Satyr is a small to medium butterfly that is dull brown on the dorsal side. The ventral side contains the identifying characteristics which include a few orange lines on the front and back wings and some yellow-lined metallic eye-spots lined up on the back wing and occasionally on the front.
Similar species: The Helicta Satyr is vaguely similar to the Carolina Satyr (Hermeuptychia sosybius) but can easily be differentiated by the orange markings and larger eyespots. It also is similar to the Little Wood Satyr (Megisto cymela) but can be differentiated by the sizes and shapes of the eyepots, as the Little Wood Satyr has only two large spots per wing, toward the leading and trailing edges of the ventral sides of both wings. It is closer to species in the same genus (Neonympha). Mitchell's Satyr (Neonympha mitchellii) is very similar in size and eyespot shape, but contains four eyespots on the ventral side of the front wing instead of two or none. Most similar is the Georgia Satyr (Neonympha areolata) which usually has more elongated eyespots and the orange markings on the ventral hind wing meet before the leading edge. These characteristics may be variable, however, and genitalia dissection may be the only sure way to differentiate the two species.
North American Range: Southern Virginia, through the North Carolina sandhills and into Georgia and Florida and west to Mississippi. There is also a disjunct population in New Jersey. There is still work to be done to understand the range differences and overlap between this species and N. areolata.
VA Observations by Locality: Dinwiddie | Greensville | Isle of Wight | Lunenburg | Nottoway | Southampton | Suffolk, City of | Suffolk, City of | Sussex | Suffolk, City of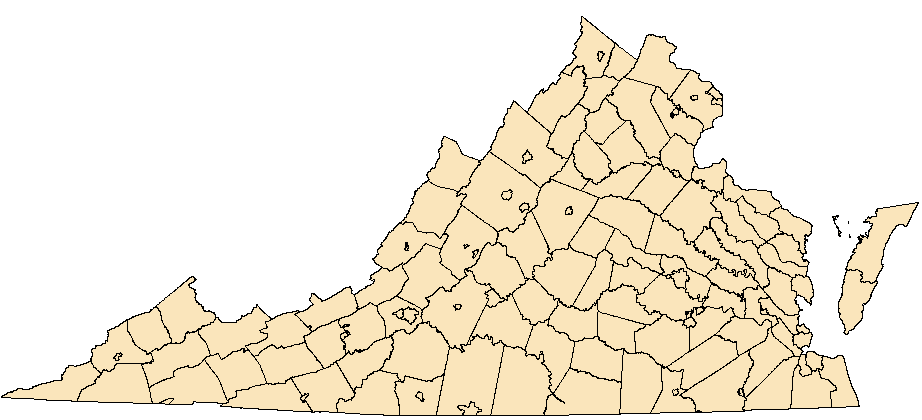 Before 1950

1950 - 1990

After 1990










Flight season and broods: The Helicta Satyr is double brooded in Virginia.
Habitat and Food Plants: Usually grassy wetlands, especially bogs and savannas, but can also be found in similarly grassy pine forests. It most likely hosts on various sedges.
Behavior and Ecology: Individuals have a low and bouncy flight and generally stay close to or within the tall grasses they inhabit. When disturbed they fly into thickets of grass to seek shelter.
Population trend and potential threats: The Helicta Satyr is threatened by habitat destruction and fragmentation.
Management practices: Loss of grassy wetlands may be a threat to this species.
References: Cech, R. and G. Tudor. 2005. Butterflies of the East Coast. Pg. 250. Princeton University Press.

NatureServe. 2013. NatureServe Explorer: An online encyclopedia of life [web application]. Version 7.1. NatureServe, Arlington, Virginia. Available http://www.natureserve.org/explorer. (Accessed: May 28, 2013 ).

Opler, P. A. 1992. A Field Guide to Eastern Butterflies. Peterson Field Guides

Pyle, R. M. 1981. Field Guide to North American Butterflies. National Audubon Society.
Copyright ©2023, All Rights Reserved
Virginia Department of Conservation and Recreation, Natural Heritage Program, 600 E. Main St., 24
th
Floor, Richmond, VA 23219
This atlas was compiled by the VA Natural Heritage Program with funds provided by the VA Dept. of Game and Inland Fisheries through a state wildlife grant from U.S. Fish and Wildlife Service
Questions/Comments? Check the contacts page | Internet Privacy Policy Statement
Last Modified: Friday, 26 February 2021, 03:21:56 PM