Atlas of Rare Butterflies, Skippers, Moths, Dragonflies & Damselflies of Virginia
Ophiogomphus mainensis Packard, 1863
Maine Snaketail
NatureServe Global Rank: G4
Virginia State Rank: S1
VA DGIF Tier: IV
Federal Legal Status: None
Virginia Legal Status: None

Description: The Maine Snaketail is a small clubtail with a bright green thorax and a black abdomen with narrow yellow markings above and along the sides. The yellow streaks on top of the abdomen are absent from the last few segments, but the lateral markings become larger. The eyes and face are green. The size is 42 - 46 mm (1.6 - 1.8 inches).
Similar species: Though very similar to several other snaketail species, the lack of narrow yellow markings above on the last few abdominal segments can separate the Maine Snaketail from its near relatives.
North American Range: Eastern Canada and Maine, south in the Appalachians to North Carolina, Tennessee, and northern Georgia. In Virginia it is known only from Highland and Scott Counties, and there are no recent records.
VA Observations by Locality: Highland | Scott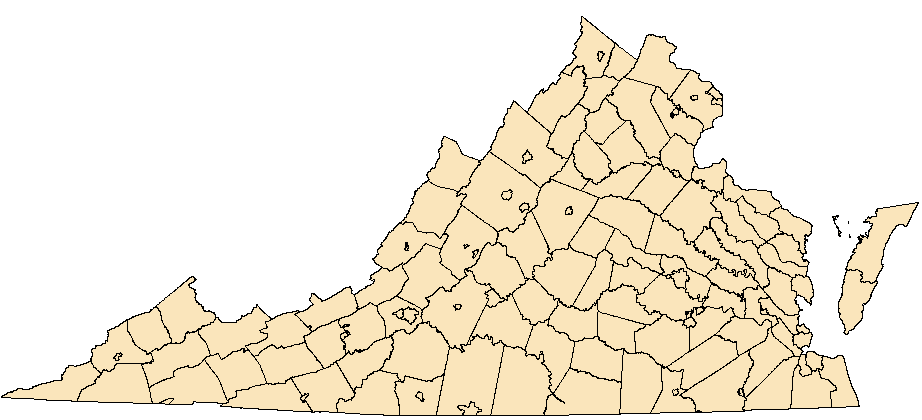 Before 1950

1950 - 1990

After 1990


Flight season and broods: There are records for the Maine Snaketail from 17 May to 24 July in Virginia.
Aquatic Habitat: The Maine Snaketail prefers clear and swift mountain streams and smaller rivers.
Behavior and Ecology: The Maine Snaketail becomes very active and unwary in the late evening. It frequently perches on rocks and overhanging leaves.
Population trend and potential threats: Though Secure in portions of its range, such as in Maine, it is critically imperiled in many regions (NatureServe, 2011).
Management practices: Presently unknown
References: Carle, F.L., 1982. A contribution to the knowledge of the Odonata. Ph.D. thesis, Virginia Polytechnic Institute and State University, Blacksburg, Virginia. 1,095 pp.

Dunkle, S.W. 2000. Dragonflies through Binoculars: A Field Guide to Dragonflies of North America. Oxford University Press. New York. 266 pp.

NatureServe. 2011. NatureServe Explorer: An online encyclopedia of life [web application]. Version 7.1. NatureServe, Arlington, Virginia. Available http://www.natureserve.org/explorer (Accessed: Jan. 8, 2013).

Paulson, Dennis. 2011. Dragonflies and Damselflies of the East. Princeton University Press. Princeton and Oxford. 538 pp.

Roble, Steven M. 2011. Dragonflies of Virginia- Flight dates. Unpub.
Copyright ©2023, All Rights Reserved
Virginia Department of Conservation and Recreation, Natural Heritage Program, 600 E. Main St., 24
th
Floor, Richmond, VA 23219
This atlas was compiled by the VA Natural Heritage Program with funds provided by the VA Dept. of Game and Inland Fisheries through a state wildlife grant from U.S. Fish and Wildlife Service
Questions/Comments? Check the contacts page | Internet Privacy Policy Statement
Last Modified: Friday, 26 February 2021, 03:21:56 PM