Atlas of Rare Butterflies, Skippers, Moths, Dragonflies & Damselflies of Virginia
Click image to enlarge.
Paectes abrostolella (Walker, 1866)
A noctuid moth
NatureServe Global Rank: G4
Virginia State Rank: S1S2
VA DGIF Tier: None
Federal Legal Status: None
Virginia Legal Status: None

Description: Small for a Noctuid with a wingspan of 22mm. The base of the front wing has a white spot mostly encircled by black lines. The middle section of the wing is gray with some faint markings, bordered on the outside by a double line representing a forward or backward facing '7.' The outside part of the wing is mainly brown with a light spot near the apex and a few black dashes at the point of the '7.' The hind wing is mainly gray-brown and lightens toward the base, and has lighter fringes bordered by an undulating black line.
Similar species: Paectes abrostoloides is similar to Paectes abrostolella but has longer wings and the '7' marking does not quite reach the leading edge of the forewing, instead it is interrupted by the patch of light coloration located in the middle of the wing. Paectes pygmaea bears a closer resemblance, except that the round basal spot is tan and the fringe on the hind wing is white instead of the light gray seen in Paectes abrostolella.
North American Range: Ontario to at least Missouri and Kentucky. In Virginia, this species has been documented in Lee County.
VA Observations by Locality: Lee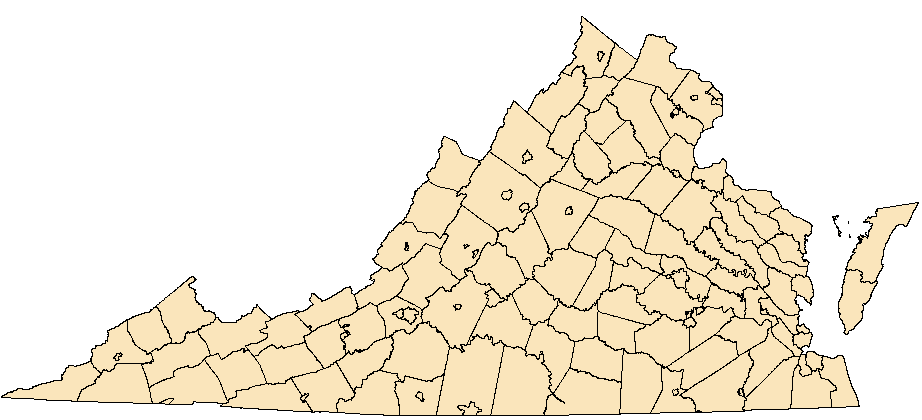 Before 1950

1950 - 1990

After 1990

Flight season and broods: Presently Unknown.
Habitat and Food Plants: The host is thought to be low-growing Sumacs, but this is presently unconfirmed.
Behavior and Ecology: Presently unknown
Population trend and potential threats: Populations should be monitored and habitats preserved.
Management practices: None yet.
References: Moth Photographers Group at the Mississippi Entomological Museum at Mississippi State University. Web application at: http://mothphotographersgroup.msstate.edu/large_map.php?hodges=8959.1 Accessed: 18Apr2013

NatureServe. 2011. NatureServe Explorer: An online encyclopedia of life [web application]. Version 7.1. NatureServe, Arlington, Virginia. Available http://www.natureserve.org/explorer. (Accessed: September 21, 2012).
Copyright ©2023, All Rights Reserved
Virginia Department of Conservation and Recreation, Natural Heritage Program, 600 E. Main St., 24
th
Floor, Richmond, VA 23219
This atlas was compiled by the VA Natural Heritage Program with funds provided by the VA Dept. of Game and Inland Fisheries through a state wildlife grant from U.S. Fish and Wildlife Service
Questions/Comments? Check the contacts page | Internet Privacy Policy Statement
Last Modified: Friday, 26 February 2021, 03:21:56 PM