Atlas of Rare Butterflies, Skippers, Moths, Dragonflies & Damselflies of Virginia
Click image to enlarge.
Papaipema speciosissima (Grote and Robinson, 1868)
Osmunda Borer Moth
NatureServe Global Rank: G4
Virginia State Rank: S3
VA DGIF Tier: None
Federal Legal Status: None
Virginia Legal Status: None

Description: This is a very large (wingspan, 42-45 mm) orange Papaipema with the reniform in the shape of a bar rather than the usual ring of white spots. The median line is sharply bent at a right angle. The bar is usually white but can be dark brown. This moth is distinctive and specimens in good condition are fairly unmistakable.
Similar species: It is larger than Papaipema stenocelis which is the only somewhat similar species, and P. speciosissima also differs with its sharply angled median line.
North American Range: Maine to Florida Keys along the coast, through the Great Lakes region to Michigan and Indiana.
VA Observations by Locality: Accomack | Fairfax | New Kent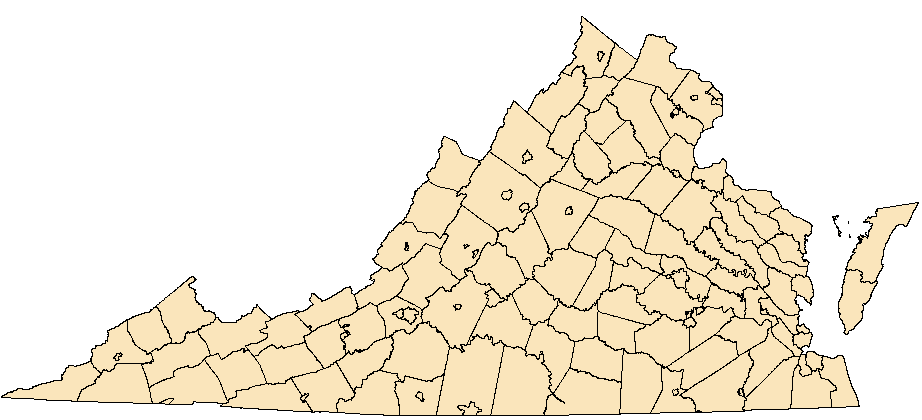 Before 1950

1950 - 1990

After 1990



Flight season and broods: Eggs overwinter, probably on the old fronds or litter near their base. Larvae habits are less well known but they probably mature in July in New Jersey, August northward, and earlier at least in the Deep South. Like many Papaipema southward, larvae aestivate for a few weeks to a couple of months before pupating, and the adult flies in September and October.
Habitat and Food Plants: Flowering ferns (Osmunda species). Forested wetlands and scrub/shrub wetlands. It also occurs frequently in forests and moist pinelands.
Behavior and Ecology: The larvae bore into the roots of Osmunda ferns.
Population trend and potential threats: Larvae are very vulnerable to fires. The adult flies about three to five hours after dusk, sometimes later.
Management practices: None yet
References: Covell, Charles V. Covell, Jr.; A Field Guide to Moths of Eastern North America; Houghton Mifflin Co., Boston. P. 126.
Moth Photographers Group at the Mississippi Entomological Museum at Mississippi State University. Web application at: http://mothphotographersgroup.msstate.edu/large_map.php?hodges=9482 Accessed: 19Apr2013
NatureServe. 2012. NatureServe Explorer: An online encyclopedia of life [web application]. Version 7.1. NatureServe, Arlington, Virginia. Available http://www.natureserve.org/explorer. (Accessed: September 18, 2012 ).
Copyright ©2023, All Rights Reserved
Virginia Department of Conservation and Recreation, Natural Heritage Program, 600 E. Main St., 24
th
Floor, Richmond, VA 23219
This atlas was compiled by the VA Natural Heritage Program with funds provided by the VA Dept. of Game and Inland Fisheries through a state wildlife grant from U.S. Fish and Wildlife Service
Questions/Comments? Check the contacts page | Internet Privacy Policy Statement
Last Modified: Friday, 26 February 2021, 03:21:56 PM