Atlas of Rare Butterflies, Skippers, Moths, Dragonflies & Damselflies of Virginia
Click image to enlarge.
Phyciodes batesii batesii (Reakirt, [1866])
Tawny Crescent
NatureServe Global Rank: G4T1
Virginia State Rank: SX
VA DGIF Tier: II
Federal Legal Status: None
Virginia Legal Status: None

Description: The Tawny Crescent displays a combination of black and orange on the dorsal side, with light checkered fringes on the outside of the black borders. Females are more checkered in appearance. The ventral side of the hind wing is mostly light tan-orange colored with reddish brown veins and markings.
Similar species: The dorsal side of the Tawny Crescent is very similar to a number of Crescents (Phyciodes) and Checkerspots (Chlosyne) and the ventral side should be the reference by which to differentiate species. The ventral side is significantly different than that of any of the Checkerspots but still similar to the Crescents. It is most similar to the Northern (P. cocyta) and Pearl Crescents (P. tharos), but can be separated by the darker patches surrounding the silver crescent spot in the middle of the outer edge of the ventral hind wing. This area is the same base color of tan-orange in the Tawny Crescent.
North American Range: Found in Canada and the western US, but in the East only presently occurs in the high mountains of North Carolina and Georgia. Likely extirpated from Virginia.
VA Observations by Locality: Bedford | Botetourt | Giles | Winchester, City of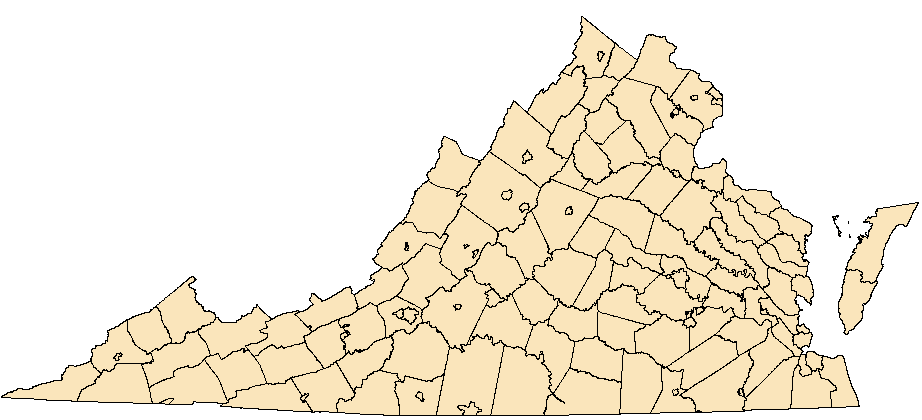 Before 1950

1950 - 1990

After 1990




Flight season and broods: Single brooded May through early June in the southern Appalachians, later further north.
Habitat and Food Plants: The Tawny Crescent is found in dry habitats, mainly clearings, open woods and roadsides. It hosts on Wavy-Leaved Asters (Aster undulatus) and closely related species.
Behavior and Ecology: The Tawny Crescent patrols and takes nectar at regular intervals, and also will visit puddles for nutrients.
Population trend and potential threats: The populations of Tawny Crescent in the northeast US have declined greatly but there are some persisting populations in the southern Appalachians. This decline is not yet understood.
Management practices: Any populations that are known in the east should be monitored and protected.
References: Allen, T. J. 1997. The Butterflies of West Virginia and their Caterpillars. University of Pittsburg Press. 388pp.

Cech, R. and G. Tudor. 2005. Butterflies of the East Coast. Pg. 250. Princeton University Press.

Opler, P. A. 1992. A Field Guide to Eastern Butterflies. Peterson Field Guides

Pyle, R. M. 1981. Field Guide to North American Butterflies. National Audubon Society.
Copyright ©2023, All Rights Reserved
Virginia Department of Conservation and Recreation, Natural Heritage Program, 600 E. Main St., 24
th
Floor, Richmond, VA 23219
This atlas was compiled by the VA Natural Heritage Program with funds provided by the VA Dept. of Game and Inland Fisheries through a state wildlife grant from U.S. Fish and Wildlife Service
Questions/Comments? Check the contacts page | Internet Privacy Policy Statement
Last Modified: Friday, 26 February 2021, 03:21:56 PM