Atlas of Rare Butterflies, Skippers, Moths, Dragonflies & Damselflies of Virginia
Click image to enlarge.
Phyciodes cocyta (Cramer, 1777)
Northern Crescent
NatureServe Global Rank: G5
Virginia State Rank: S1S3
VA DGIF Tier: None
Federal Legal Status: None
Virginia Legal Status: None

Description: The Northern Crescent has an orange dorsal side that has various black markings and a strong black border. The ventral side is a pale tan color with orange-brown veins and markings and an orange-brown patch surrounding a silver crescent towards the outward edge of the back wing.
Similar species: The Northern Crescent is very similar to many others on the dorsal side, except that the hind wings of the males are more lightly marked with black venation. The ventral side holds the key characteristics for identification and is similar only to the Tawny Crescent (P. batesii) and the Pearl Crescent (P. tharos). The pattern of the Pearl Crescent is most similar except the veins and markings as well as the dark patch around the silver crescent are dark brown instead of the orange-brown as seen in the Northern Crescent. The base color and orange tones of the Northern Crescent are similar to those of the Tawny Crescent, except the Tawny Crescent does not have a dark patch at the edge of the wings and often does not have the silver crescent that the dark patch would surround.
North American Range: Minnesota and northern Nebraska south to North Carolina in the Appalachians, also the Rockies in the West.
VA Observations by Locality: Augusta | Bath | Augusta | Craig | Frederick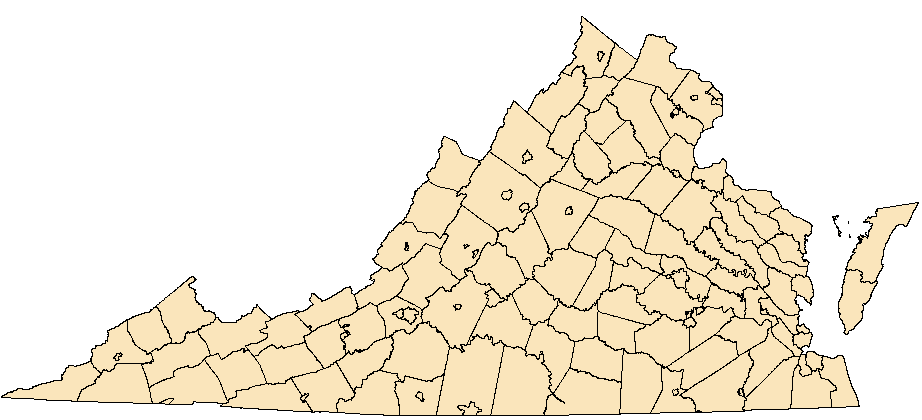 Before 1950

1950 - 1990

After 1990





Flight season and broods: The Northern Crescent has only one brood from June through July.
Habitat and Food Plants: The Northern Crescent favors barrens habitats in the Appalachians, but is also associated with water such as streams. It is more woodland-based than similar species. They host on various aster species.
Behavior and Ecology: They have a slower gliding flight compared to similar species and will often travel a long distance without stopping. There is a close association with woodlands and streams. They visit flowers for nectar and imbibe moisture from damp earth. Individuals over-winter as larvae.
Population trend and potential threats: Habitat loss could be a threat to this species.
Management practices: Monitor and protect occupied habitats.
References: Allen, T. J. 1997. The Butterflies of West Virginia and their Caterpillars. University of Pittsburg Press. 388pp.
Cech, R. and G. Tudor. 2005. Butterflies of the East Coast. Pg. 250. Princeton University Press.
Opler, P. A. 1992. A Field Guide to Eastern Butterflies. Peterson Field Guides
Pyle, R. M. 1981. Field Guide to North American Butterflies. National Audubon Society.
Copyright ©2023, All Rights Reserved
Virginia Department of Conservation and Recreation, Natural Heritage Program, 600 E. Main St., 24
th
Floor, Richmond, VA 23219
This atlas was compiled by the VA Natural Heritage Program with funds provided by the VA Dept. of Game and Inland Fisheries through a state wildlife grant from U.S. Fish and Wildlife Service
Questions/Comments? Check the contacts page | Internet Privacy Policy Statement
Last Modified: Friday, 26 February 2021, 03:21:56 PM