Atlas of Rare Butterflies, Skippers, Moths, Dragonflies & Damselflies of Virginia
Click image to enlarge.
Ptichodis bistrigata Hubner, 1818
Southern Ptichodis Moth
NatureServe Global Rank: G3
Virginia State Rank: S1S3
VA DGIF Tier: IV
Federal Legal Status: None
Virginia Legal Status: None

Description: The forewing is violet gray with straight lines and no black spots. There is brown edging along the outside of the yellow am. line and the inside of the yellow pm. line. The hindwing is grayish brown with no median line. It is usually smaller than other Ptichodis species.
Similar species: The Black-tipped Ptichodis (P. vinculum) and other Ptichodis species are very similar but can be separated from the Southern Ptichodis by the shading around the pm line. The Southern Ptichodis has strong brown shading on the inside of the yellow line, and very little or no brown shading on the outside. The other species all contain little to no brown shading on the inside edge of the line and have prominent to excessive brown shading on the outside of the pm line.
North American Range: Massachusetts to Florida, westward to Missouri and Texas. Distribution data is incomplete.
VA Observations by Locality: Botetourt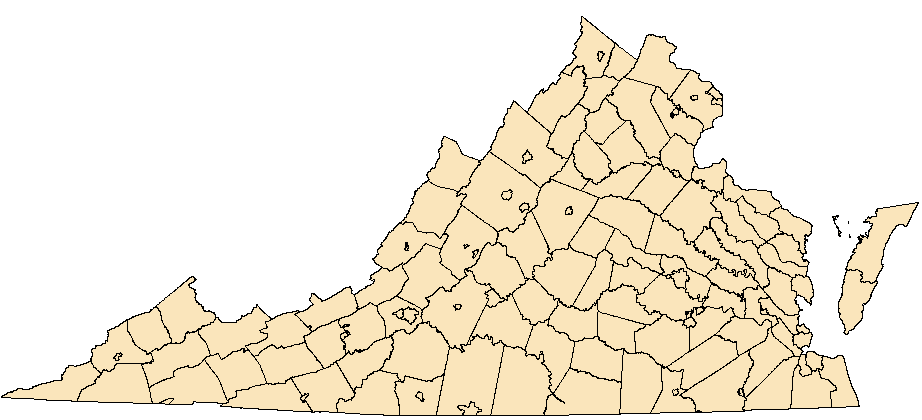 Before 1950

1950 - 1990

After 1990

Flight season and broods: Adults fly from April through June and possibly July.
Habitat and Food Plants: Not well understood, probably xeric, maybe also mesic, pine/oak scrub, savanna and prairie. Food plant unrecorded, but the larva probably feeds on certain grasses and/or legumes like those of apparently related genera such as Mocis, Caenurgia, Caenurgina, Euclidia, etc.
Behavior and Ecology: Single brood in late spring from late March southward, to mid-May through early June northward. The egg and larval stages almost certainly are completed within four to seven weeks. Based on congenerics and many related genera, this species probably spends most of the year as a pupa.
Population trend and potential threats: Presently unknown
Management practices: Work needs to be done to determine habitat and food plant.
References: Covell, Charles V. Covell, Jr.; A Field Guide to Moths of Eastern North America; Houghton Mifflin Co., Boston. P. 171.
Moth Photographers Group at the Mississippi Entomological Museum at Mississippi State University. Web application at: http://mothphotographersgroup.msstate.edu/large_map.php?hodges=8751 Accessed: 20Apr2013
NatureServe. 2012. NatureServe Explorer: An online encyclopedia of life [web application]. Version 7.1. NatureServe, Arlington, Virginia. Available http://www.natureserve.org/explorer. (Accessed: September 26, 2012 ).
Copyright ©2023, All Rights Reserved
Virginia Department of Conservation and Recreation, Natural Heritage Program, 600 E. Main St., 24
th
Floor, Richmond, VA 23219
This atlas was compiled by the VA Natural Heritage Program with funds provided by the VA Dept. of Game and Inland Fisheries through a state wildlife grant from U.S. Fish and Wildlife Service
Questions/Comments? Check the contacts page | Internet Privacy Policy Statement
Last Modified: Friday, 26 February 2021, 03:21:56 PM