Atlas of Rare Butterflies, Skippers, Moths, Dragonflies & Damselflies of Virginia
Click image to enlarge.
Schizura apicalis (Grote and Robinson, 1866)
Plain Schizura Moth
NatureServe Global Rank: G3G4
Virginia State Rank: S1S3
VA DGIF Tier: None
Federal Legal Status: None
Virginia Legal Status: None

Description: The wingspan is 26-32 mm. The coloration is very plain, mottled brown and whitish forewings, with the black reniform crescent as the heaviest marking. The underwings are dirty white with a noticeable brown spot on the anal angle.
Similar species: Most other Schzura species have more elongate wings, while those of the Plain Schizura Moth are shorter and more triangular. Schizura badia is more similar in wing shape but has black streaks originating from the reniform markings towards the apex of the front wing, and it also has black tufts of hair on the thorax near the base of the hind wing that are not present in the Plain Schizura.
North American Range: Maine and Quebec to Florida, and west to Wisconsin, Missouri and Texas
VA Observations by Locality: Amherst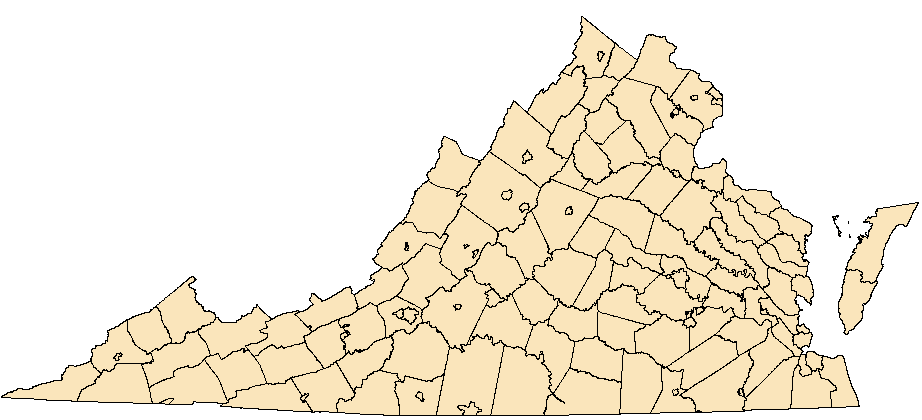 Before 1950

1950 - 1990

After 1990

Flight season and broods: April through September.
Habitat and Food Plants: Bayberry (Morella pensylvanica), Blueberries (Vaccinium sp.), Common Wax Myrtle (Morella cerifera), Poplars (Populus sp.), and Willows (Salix sp.). Often occurs in specialized sandy xeric habitats like pine barrens, and sandhills. The species occurs in a variety of habitats throughout its range; xeric, oak scrub, oak-ine scrub, savanna, or barrens are virtually all sites where this species has been found.
Behavior and Ecology: Larvae feed on mature summer foliage. Early instars may occur in small groups, but older instars are probably solitary. About four weeks after feeding, the larvae probably wander to the ground and spin a tough, but thin, cocoon in the leaf litter or humus, as do similar species of this group, and hibernate to prepupae.
Population trend and potential threats: The introduction of the parasitoid fly, Composilura concinnata, seems to be a major factor in the decline of this species in the Northeast. The outbreak of gypsy moth populations should not be harmful to this species.
Management practices: Habitat loss due to succession may be a factor which adversely affects the population of this species. BTK applications for gypsy moth should not be harmful to Schizura apicalis because the larvae appear much later. In fact, the prevention of defoliation by the application of BTK should be beneficial.
References: Covell, Charles V. Covell, Jr.; A Field Guide to Moths of Eastern North America; Special Publication No. 12; Virginia Museum of Natural History in association with the Smithsonian Institution; 1984, 2005. P. 335.
Moth Photographers Group at the Mississippi Entomological Museum at Mississippi State University. Web application at: http://mothphotographersgroup.msstate.edu/large_map.php?hodges=8009 Accessed: 20Apr2013
NatureServe. 2012. NatureServe Explorer: An online encyclopedia of life [web application]. Version 7.1. NatureServe, Arlington, Virginia. Available http://www.natureserve.org/explorer. (Accessed: November 12, 2012 ).
Schweitzer, Dale F., Mino, Marc C., Wagner, David L. September 2011. Rare, Declining, and Poorly Known Butterflies and Moths (Lepidoptera) of Forests and Woodlands in the Eastern United States. U.S. Department of Agriculture (USDA). FHTET-2011-01. Pp. 295-298.
Copyright ©2023, All Rights Reserved
Virginia Department of Conservation and Recreation, Natural Heritage Program, 600 E. Main St., 24
th
Floor, Richmond, VA 23219
This atlas was compiled by the VA Natural Heritage Program with funds provided by the VA Dept. of Game and Inland Fisheries through a state wildlife grant from U.S. Fish and Wildlife Service
Questions/Comments? Check the contacts page | Internet Privacy Policy Statement
Last Modified: Friday, 26 February 2021, 03:21:56 PM