Atlas of Rare Butterflies, Skippers, Moths, Dragonflies & Damselflies of Virginia
Stylogomphus sigmastylus Cook and Laudermilk, 2004
Interior Least Clubtail
NatureServe Global Rank: G5
Virginia State Rank: S1
VA DGIF Tier: None
Federal Legal Status: None
Virginia Legal Status: None

Description: The face of the Interior Least Clubtail is pale yellow and the eyes are turquoise. The thorax is yellow with black stripes. The abdomen is black with yellow stripes/rings. The yellow coloration dulls to gray as individuals age. Males and females have white cerci.
Similar species: The Interior Least Clubtail is similar looking to some other black and yellow Clubtails but can be differentiated by its smaller size. The Interior Least Clubtail is apparently indistinguishable from the Eastern Least Clubtail (Stylogomphus albistylus) in the field. With close examination, the male Interior Least Clubtail can be separated by the slightly longer and more up-curved cerci. Females are more difficult but can be separated by the more shallowly forked subgenital plate that is less-pointed. These two species have been known to hybridize, however.
North American Range: The Interior Least Clubtail is found in two main populations: around the Ozarks, in Missouri, Arkansas and Oklahoma, and central Kentucky and Tennessee. There is a single colony known in southwestern Virginia.
VA Observations by Locality: Scott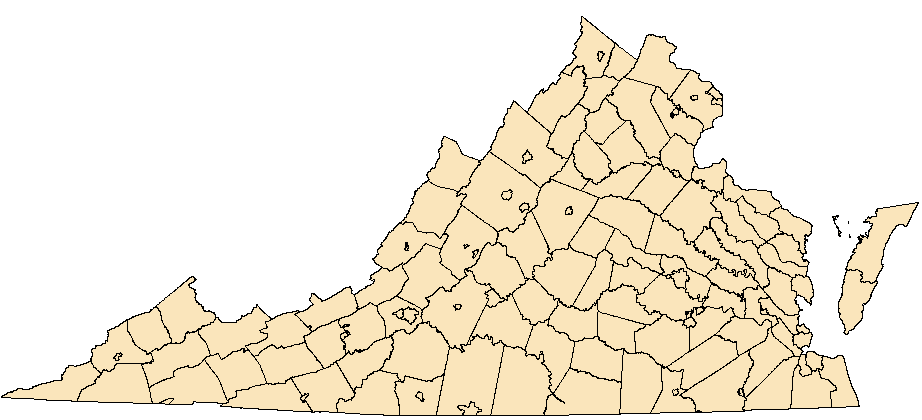 Before 1950

1950 - 1990

After 1990

Flight season and broods: It is found from April through October.
Aquatic Habitat: The Interior Least Clubtail prefers small, clear rivers with moderate current and a sand/rock substrate, often in forested areas.
Behavior and Ecology: Interior Least Clubtail males perch near riffles on rocks or low plants and patrol in fast circles over rapids before disappearing into the trees. Females are less commonly seen, and are assumed to spend a large amount of their time high in the trees. They oviposit while quickly circling over riffles.
Population trend and potential threats: Interior Least Clubtail may be negatively impacted by poor water quality and habitat degradation.
Management practices: Populations should be monitored and habitats preserved.
References: LeGrand, H., E. Corey and T. Howard. The Dragonflies and Damselflies of North Carolina. http://www.dpr.ncparks.gov/odes/a/accounts.php. Accessed: 4/8/2013
Paulson, Dennis. 2011. Dragonflies and Damselflies of the East. Princeton University Press, Princeton, NJ. 530 pp.
Copyright ©2023, All Rights Reserved
Virginia Department of Conservation and Recreation, Natural Heritage Program, 600 E. Main St., 24
th
Floor, Richmond, VA 23219
This atlas was compiled by the VA Natural Heritage Program with funds provided by the VA Dept. of Game and Inland Fisheries through a state wildlife grant from U.S. Fish and Wildlife Service
Questions/Comments? Check the contacts page | Internet Privacy Policy Statement
Last Modified: Friday, 26 February 2021, 03:21:56 PM