Atlas of Rare Butterflies, Skippers, Moths, Dragonflies & Damselflies of Virginia
Click image to enlarge.
Stylurus laurae Williamson, 1932
Laura's Clubtail
NatureServe Global Rank: G4
Virginia State Rank: S2
VA DGIF Tier: IV
Federal Legal Status: None
Virginia Legal Status: None

Description: Laura's Clubtail is a large species at 2.3 inches long. The face is pale with two dark cross-bars and green eyes. The thorax has yellow stripes on the front which are not collected to the yellow collar. The abdomen is black grading into brown towards the posterior end. There is a pale dorsal stripe on the abdomen and small basal spots on the base of the sides of S3 - S6. The club part of the abdomen has wider yellow markings on its sides. The legs are brown with some yellow in the females.
Similar species: The Russet-tipped Clubtail (Stylurus plagiatus) is similar, but Laura's Clubtail has greener eyes and a darker abdomen with a narrower pale stripe between T1 and T2 and a gray area between T3 and T4 and a different frontal thorax. The Riverine Clubtail (Stylurus amnicola) is smaller and has distinctive frontal thorax markings.
North American Range: Laura's Clubtail can be found in the piedmont and mountain areas of Maryland south to South Carolina, again from Michigan south to eastern Texas and northwestern Florida.
VA Observations by Locality: Fairfax | Hanover | Henrico | Nelson | Richmond, City of | Charlotte | Fairfax | Louisa | Montgomery | Spotsylvania | Lunenburg | Nottoway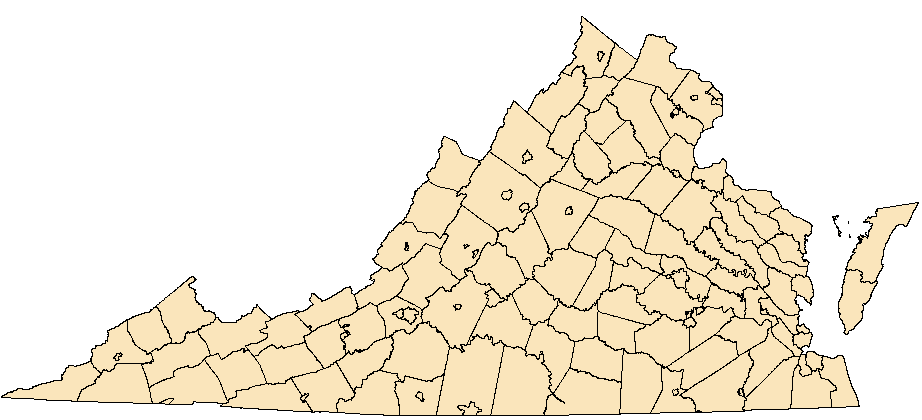 Before 1950

1950 - 1990

After 1990










Flight season and broods: It is most likely encountered between June and October.
Aquatic Habitat: Laura's Clubtail prefers clear shallow streams with rocky riffles and a sand or mud bottom.
Behavior and Ecology: Laura's Clubtails perch on low or high leaves overhanging streams, and occasionally rocks or logs. Males perform short patrol flights over riffles and seem to be most active midday into the early evening. Females tap the water at intervals to oviposit.
Population trend and potential threats: Laura's Clubtail may be negatively impacted by poor water quality and habitat degradation.
Management practices: Populations should be monitored and habitats preserved.
References: Dunkle, Sydney W. 2000. Dragonflies Through Binoculars: A Field Guide to Dragonflies of North America. Oxford University Press, New York, NY. 266 pp.

LeGrand, H., E. Corey and T. Howard. The Dragonflies and Damselflies of North Carolina. http://www.dpr.ncparks.gov/odes/a/accounts.php. Accessed: 4/8/2013

Paulson, Dennis. 2011. Dragonflies and Damselflies of the East. Princeton University Press, Princeton, NJ. 530 pp.
Copyright ©2023, All Rights Reserved
Virginia Department of Conservation and Recreation, Natural Heritage Program, 600 E. Main St., 24
th
Floor, Richmond, VA 23219
This atlas was compiled by the VA Natural Heritage Program with funds provided by the VA Dept. of Game and Inland Fisheries through a state wildlife grant from U.S. Fish and Wildlife Service
Questions/Comments? Check the contacts page | Internet Privacy Policy Statement
Last Modified: Friday, 26 February 2021, 03:21:56 PM