Atlas of Rare Butterflies, Skippers, Moths, Dragonflies & Damselflies of Virginia
Click image to enlarge.
Sympistis perscripta
Scribbled Sallow
NatureServe Global Rank: G4
Virginia State Rank: S1S3
VA DGIF Tier: None
Federal Legal Status: None
Virginia Legal Status: None

Description: The Scribbled Sallow is a medium sized moth with a wingspan of 30 - 32mm. The front wings are light gray with black markings. There is a scalloped black pm line and a much darker scalloped black am line with a second, less distinct line immediately to the basal side of it. There is a reniform, orbicular and claviform spot outlined by thin black lines which are often lighter gray than the surrounding wing color. The back wing is gray, lightening towards the base. Both wings have scalloped lines at the margin, black but highlighted on the outside by a lighter color. The thorax is lighter gray with black speckles and very fuzzy.
Similar species: This species is distinct from all others in our area based upon coloration and alignment of pattern.
North American Range: East Coast from Maine to North Carolina; also Michigan, Minnesota the southwestern United States. It is known only from southeastern Virginia.
VA Observations by Locality: No Known Recorded Observations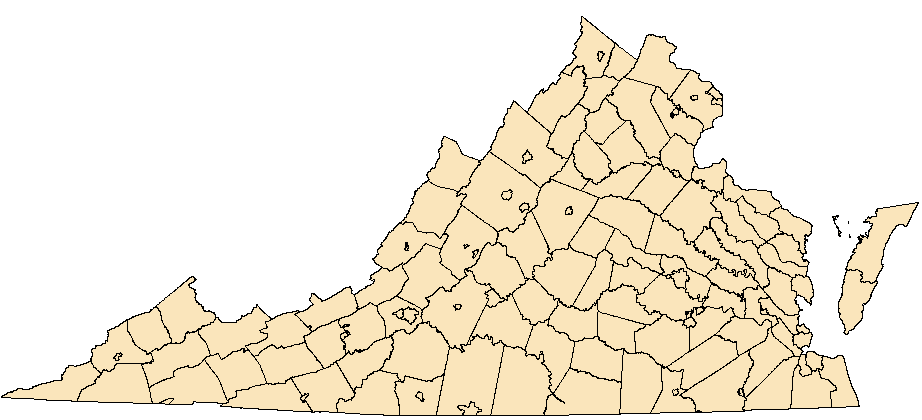 Before 1950

1950 - 1990

After 1990
Flight season and broods: There is one brood, with mature larvae in late June or July in the north and May or June in the south. Adults fly from late September until May in California.
Habitat and Food Plants: It is found in sandy natural or unnatural grassy habitats that are scattered through a large pine barrens, oak savannas, or southern pinelands, and are generally either greater than 100 hectares or multiple grassy patches within a large overall barrens or savanna communities or along an extensive right of way over suitable sandy soils. They host on Toadflax (Linaria species).
Behavior and Ecology: Larvae are bright colored and unpalatable to predators. They can be found head down at the base of stems of the host at night, but are also found feeding in the open. The pupa overwinters in an underground cocoon.
Population trend and potential threats: Populations should be monitored and habitats preserved.
Management practices: None yet.
References: Bug Guide. 2003. Iowa State University Entomology. At: www.bugguide.net/node/view/104158. Accessed: 22Apr2013

Moth Photographers Group at the Mississippi Entomological Museum at Mississippi State University. Web application at: http://mothphotographersgroup.msstate.edu/large_map.php?hodges=10154 Accessed: 22Apr2013

NatureServe. 2012. NatureServe Explorer: An online encyclopedia of life [web application]. Version 7.1. NatureServe, Arlington, Virginia. Available http://www.natureserve.org/explorer. (Accessed: November 3, 2012 ).

Powell, J. A. & P. A. Opler. 2009. Moths of Western North America. University of California, Berkeley and Los Angeles, CA. 369pp.

Wagner, D. L., D.F. Schweitzer, J.B. Sullivan, and R.C. Reardon. 2011. Owlet Caterpillars of Eastern North America. Princeton University Press, Princeton, NJ. 576pp.
Copyright ©2023, All Rights Reserved
Virginia Department of Conservation and Recreation, Natural Heritage Program, 600 E. Main St., 24
th
Floor, Richmond, VA 23219
This atlas was compiled by the VA Natural Heritage Program with funds provided by the VA Dept. of Game and Inland Fisheries through a state wildlife grant from U.S. Fish and Wildlife Service
Questions/Comments? Check the contacts page | Internet Privacy Policy Statement
Last Modified: Friday, 26 February 2021, 03:21:56 PM