Atlas of Rare Butterflies, Skippers, Moths, Dragonflies & Damselflies of Virginia
Click image to enlarge.
Synanthedon castaneae (Busck, 1913)
Chestnut Clearwing Moth
NatureServe Global Rank: G3G5
Virginia State Rank: SH
VA DGIF Tier: IV
Federal Legal Status: None
Virginia Legal Status: None

Description: The Chestnut Borer is black with a metallic blue sheen. The wings are clear except for the periphery and a solid bar cutting across the center of the front wing. There is a single yellow band around the abdomen.
Similar species: This and other members of the Sessiidae are mimics of various species of wasps, but can be told apart easily when viewing the facial features. Many other Sessiids are similar looking, but they either have opaque front wings or more than one yellow band on the abdomen.
North American Range: Pennsylvania and New York south to Georgia and Mississippi. The only Virginia record is from Falls Church, VA.
VA Observations by Locality: Falls Church, City of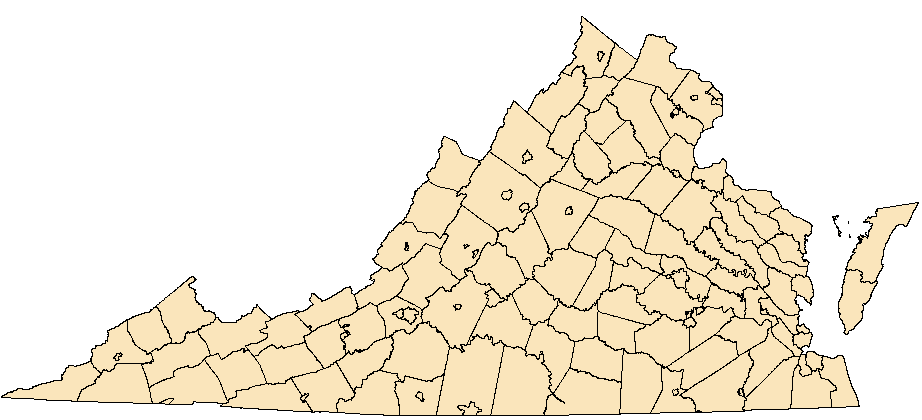 Before 1950

1950 - 1990

After 1990

Flight season and broods: Not clearly known.
Habitat and Food Plants: It is an American Chestnut (Castanea dentata)feeder, but might be able to feed on Chinkapin (Castanea pumila) as well (Schweitzer et al., 2011).
Behavior and Ecology: The larvae of this moth tunnel in the bark and cambium, and if numerous could cause serious injury to the tree. The male moths can be captured with pheromone traps, which could provide control by preventing females from mating. Chemical or biological control may be possible, but has not yet been investigated for this species.
Population trend and potential threats: This species was thought to have disappeared with mature stands of the American chestnut, but has been found infesting chestnuts in our breeding program (Connecticut Agricultural Experiment Station).
Management practices: The male moths can be captured with pheromone traps, which could provide control by preventing females from mating.
References: Bug Guide. 2003. Iowa State University Entomology. At: www.bugguide.net/node/view/488172. Accessed: 22Apr2013
Connecticuit Agricultural Experiment Station. Chestnut, Plant Health Problems. http://www.ct.gov/caes/cwp/view.asp?a=2823&q=377622. Accessed 28May2013.
Moth Photographers Group at the Mississippi Entomological Museum at Mississippi State University. Web application at: http://mothphotographersgroup.msstate.edu/large_map.php?hodges=2577 Accessed: 22Apr2013
NatureServe. 2012. NatureServe Explorer: An online encyclopedia of life [web application]. Version 7.1. NatureServe, Arlington, Virginia. Available http://www.natureserve.org/explorer. (Accessed: November 3, 2012 ).
Copyright ©2023, All Rights Reserved
Virginia Department of Conservation and Recreation, Natural Heritage Program, 600 E. Main St., 24
th
Floor, Richmond, VA 23219
This atlas was compiled by the VA Natural Heritage Program with funds provided by the VA Dept. of Game and Inland Fisheries through a state wildlife grant from U.S. Fish and Wildlife Service
Questions/Comments? Check the contacts page | Internet Privacy Policy Statement
Last Modified: Friday, 26 February 2021, 03:21:56 PM