Atlas of Rare Butterflies, Skippers, Moths, Dragonflies & Damselflies of Virginia
Click image to enlarge.
Zale curema (Smith, 1908)
Black-eyed Zale Moth
NatureServe Global Rank: G4
Virginia State Rank: S1S3
VA DGIF Tier: IV
Federal Legal Status: None
Virginia Legal Status: None

Description: Rather uniform dark violet brown with a contrasting dark reniform spot. It may or may not have the white spot to outer rear of forewing. The pm line continues onto the mostly brown hind wing. The larva is green with white stripes partially edged with red.
Similar species: There are a number of other Zale species that are very similar to the Black-Eyed Zale. Most similar species can be differentiated by having a more distinct pm line, especially in half toward the leading edge of the front wing. The species that do not have more distinct markings may not be reliably separable.
North American Range: New Hampshire to Virginia and Arkansas; Scattered reports in the Appalachians from Pennsylvania to Virginia. Moth Photographers Group shows records from South Carolina, Florida and Texas.
VA Observations by Locality: Halifax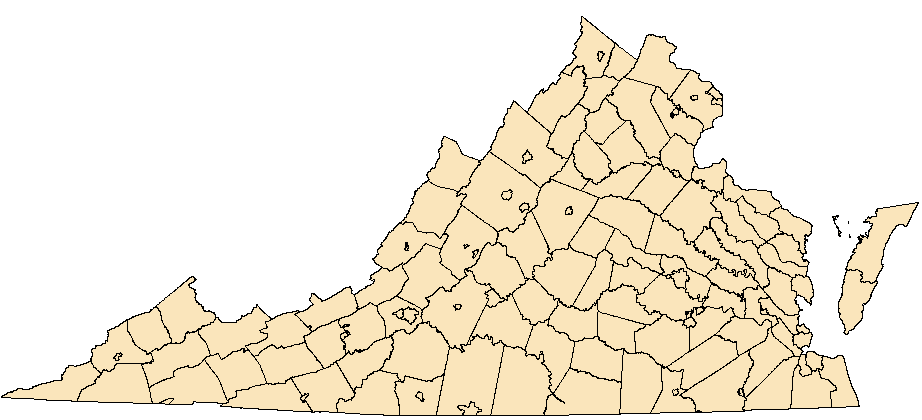 Before 1950

1950 - 1990

After 1990

Flight season and broods: It flies only in late April to mid June. The egg stage lasts about ten days and the larval stage slightly over a month. Pupae overwinter in the humus or litter.
Habitat and Food Plants: It is found in scattered major northern pitch pine areas and pine-oak forests.
Behavior and Ecology: The species is univoltine.
Population trend and potential threats: Unknown
Management practices: None yet
References: Moth Photographers Group at the Mississippi Entomological Museum at Mississippi State University. Web application at: http://mothphotographersgroup.msstate.edu/large_map.php?hodges=8709 Accessed: 26Apr2013

NatureServe. 2012. NatureServe Explorer: An online encyclopedia of life [web application]. Version 7.1. NatureServe, Arlington, Virginia. Available http://www.natureserve.org/explorer. (Accessed: September 30, 2012 ).

Wagner, D. L., D.F. Schweitzer, J.B. Sullivan, and R.C. Reardon. 2011. Owlet Caterpillars of Eastern North America. Princeton University Press, Princeton, NJ. 576pp.
Copyright ©2023, All Rights Reserved
Virginia Department of Conservation and Recreation, Natural Heritage Program, 600 E. Main St., 24
th
Floor, Richmond, VA 23219
This atlas was compiled by the VA Natural Heritage Program with funds provided by the VA Dept. of Game and Inland Fisheries through a state wildlife grant from U.S. Fish and Wildlife Service
Questions/Comments? Check the contacts page | Internet Privacy Policy Statement
Last Modified: Friday, 26 February 2021, 03:21:56 PM